Navaratri Celebrations in Omkarananda Ashram Himalayas
from 11th April 2013 to 20th April 2013
On Thursday, the 11th April 2013, started Vasant-Navaratri, those special holy days which are dedicated to Divine Mother Durga during the time of the spring season.
The new Hindu year, called "Paraabhava", according to the North Indian Calendar, also started on this day.
The governing Planet, or "King", for the new Hindu-year, which lasts from 11th April 2013 till end of March 2014, is Jupiter, who represents the Guru. The assisting Planet, or "Minister", for this special Hindu year is the powerful Saturn, who represents Karmic Law and Justice, among many other things.
As always during the Navaratri Celebrations the Priests of Omkarananda Ashram Himalayas had established a grand and colourful Altar in the Yajnashala of Omkarananda-Kamakshi-Devi Mandir, with the lovely Murti of Omkarananda-Shanta-Durga, smiling sweetly at all Devotees. Omkarananda-Shanta-Durga Maa was surrounded by a photo of Gurudev Paramahamsa Omkarananda Saraswati, a picture of Lord Shiva and Utsava Murtis of Omkarananda-Kamakshi-Devi and other Divinities.
In the morning time special Durga Pujas were conducted at this place and in the afternoon additional Hawanas were performed by the Priests. At several occasions Shri Swami Vishveshwarananda Saraswati, President Omkarananda Ashram, took part in the Pujas and in the afternoon Yajnas and also offered Purnahuti.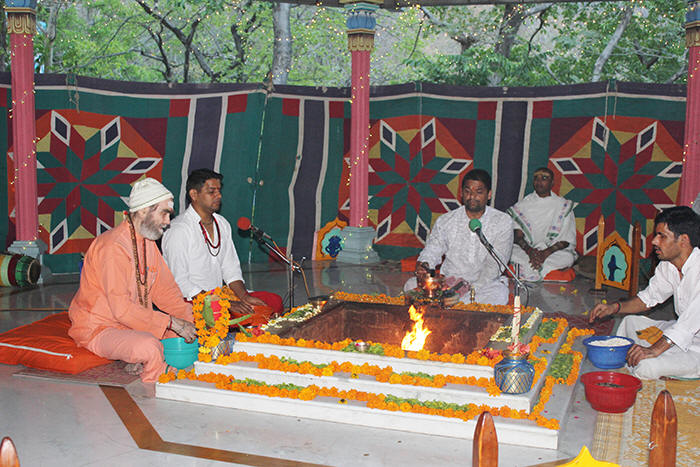 The beginning of Navaratri starts with an excellent Yajna.
Every day of this Durga-Festival was special, but even then there were some highlights which deserve to be mentioned.
One such highlight was on Sunday, 14th April 2013.
In the evening time, after a wonderful Yajna and special Aratis, a Temple-dance-performance in honour of the Divine Mother was announced in the Temple-Hall of Omkarananda-Kamakshi-Devi Mandir.
Shri Swami Vishveshwarananda heartily welcomed all Devotees to watch the programme.
Then Guru-Bhakti-Ratna Kumari Somashekhari started her performance with a pure Temple-Dance item in Bharatanatyam-Style, "Melaprapti", which was recently taught to her by the great Bharatanatyam Guru Shri Deepak Mazumdar from Mumbai.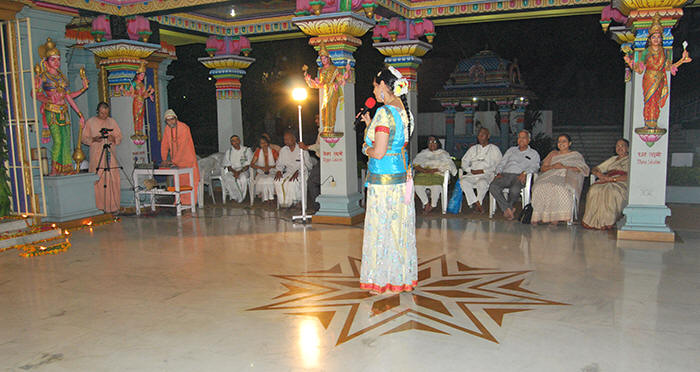 Kumari Somashekhari explains to the audience the meaning of her dances.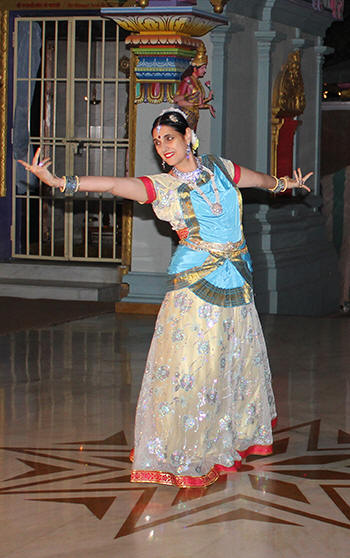 Melaprapti, a typical Bharatanatyam
Temple-Dance.
After this dance-item, Swamiji informed the audience, that Deepak Mazumdar, one of the Stalwarts in the field of Indian Classical Dance, mainly Bharatanatyam, was surprised to find in Soma an outstanding talent and had remarked, that it is a joy for him to teach her.
Somashekhari then continued her performance with devotional dances to different Devi-Bhajans, solo, and also along with her student Neha. They concluded their divine presentations with a Devi-Arati Dance.
Before each dance-item Somashekhari had shortly explained its essence in Hindi to the audience.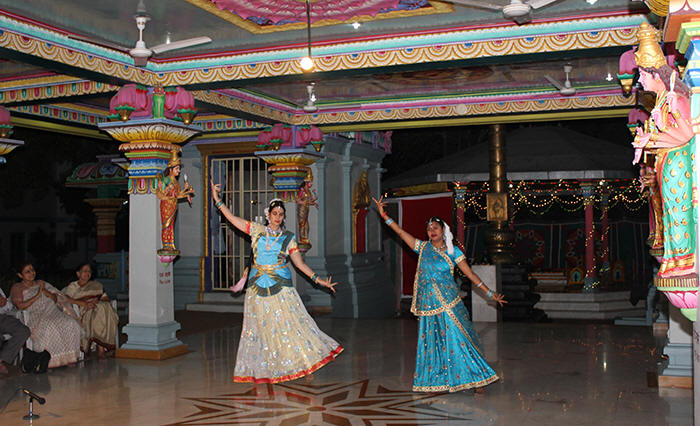 Kumari Somashekhari and her student Neha presenting a Devi Dance in Omkarananda-Kamakshi-Devi Mandir.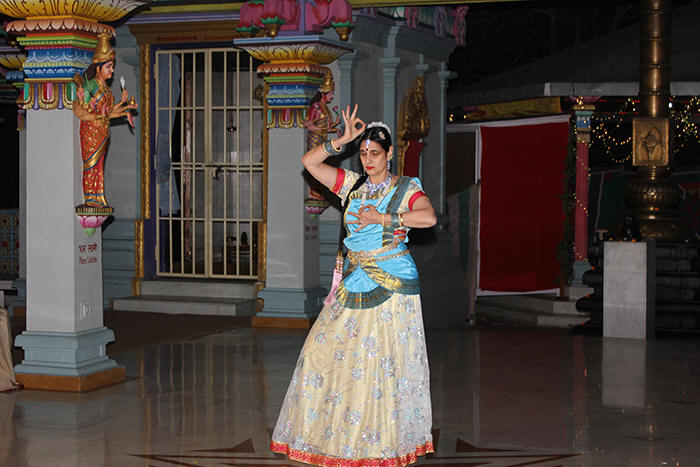 Guru-Bhakti-Ratna Kumari Somashekhari shows the Dawning of
divine Wisdom with the Hamsaasya Mudra.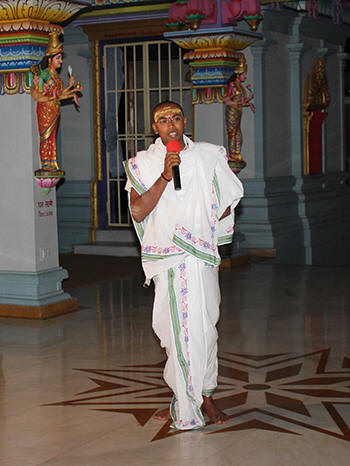 Acharya Pranava Joshi inspires the
audience with his divine words.
On special request of Shri Swami Vishveshwaranandaji, Acharya Pranava Joshi, a bright Disciple of the Vedic Scholar and Kathavachak from Maharashtra, Shri Swami Govinddev Giri Maharaj, spoke a few words on this occasion.
Shri Pranavaji expressed his deep admiration for Omkarananda Ashram Himalayas and his delight to see its manyfold divine activities. He said, that it must be the result of doing very good and pious deeds in his last births, that he got the opportunity to get in contact with Omkarananda Ashram Himalayas. Under the capable leadership of its President, Shri Swami Vishveshwarananda Saraswati, who is an extremely hardworking Karmayogi, showered immensely with Swami Omkarananda's Grace, such a heavenly and beautiful Ashram and Temples have come up in Muni-ki-Reti, Rishikesh. Pranavaji thanked the Priests of Omkarananda-Kamakshi-Devi Mandir for conducting extraordinary and wonderful Pujas and Hawanas, and he appreciated the fact, that even divine dances are performed in this Temple, as a part of the Puja - called Nrtya Seva - which is necessary for a complete worship, as prescribed by the Shastras.
Shri Pranavaji remarked, that he feels, that Kumari Somashekhari's dance was so excellent, that she would deserve the "Padma Shri Award".
Acharya Pranava Joshi expressed his deepest Adorations for Gurudev Paramahamsa Omkarananda Saraswati, who, because of His astonishing intellectual Genius and overwhelming deep Spirituality, can be compared only with Shri Adishankaracharya, being a real Advaita Vedantin and at the same time the greatest Bhakta, rooted permanently in Para-Bhakti, in the constant conscious spiritual Union with the Divine Mother Parvati Parameshwari, Tripurasundari.
Acharya Pravana Joshiji's words were received with big clapping by the audience. Shri Swami Vishveshwaranandaji garlanded Pranavaji and affectionately thanked him for his brilliant speech.
Then it was time for Shri Swami Vishveshwaranandaji's Vote of Thanks, which turned out to become an interesting lecture about the importance of controlling the mind. Swamiji narrated a fable of wolves, some sort of undomesticated, fear-inducing wild dogs, roaming in dense forests. The story was about two specific wolves, having completely different characters and personalities. One of them was good, kind and pleasant and the other one was egoistic, ferocious, harmful and always eager to attack others. Now the question was: "Who among those two wolves would get the upper hand?" The answer was: "The one, who is fed ! ! !"
The story got an interesting twist, when Swamiji continued, that the two wolves are actually sitting in our own mind. The bad wolf stands for envy, greed, hatred, passion, etc. and the other one stands for control of one's senses, for harmony, peace, kindness, etc. Swamiji reminded everyone how important it is, not to be overpowered by the tricky mind and its bad tendencies, thereby feeding the "bad wolf" in oneself.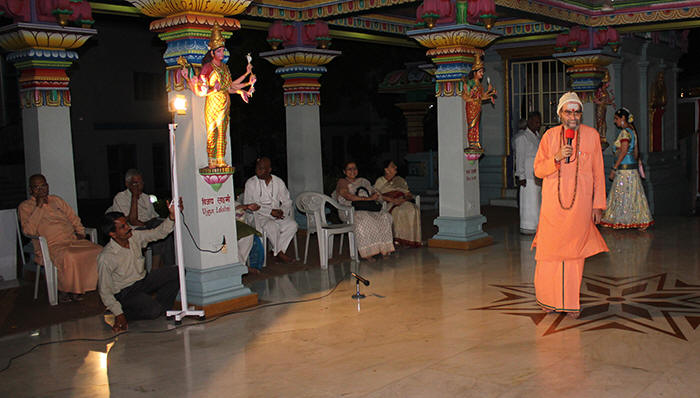 Swami Vishveshwarananda Saraswati, President Omkarananda Ashram, offers Vote of Thanks.
Swamiji's very interesting and wonderful speech, which got a huge applause, made a lasting impact on the audience. Many Devotees came to thank Swami Vishveshwarananda for his most inspiring, valuable and divine lecture on the importance of the control of the mind.
Surely the Divine Mother Durga must have been pleased about this wonderful evening in Her Honour, with powerful Pujas and Hawanas, aesthetically pleasing divine dances and inspiring speeches, in Omkarananda Ashram Himalayas.
The Navaratri Celebrations continued daily and were concluded on Saturday, the 20th April 2013, on Vijaya Dashami.
In the morning the final Celebrations started in the Yajnashala of Omkarananda-Kamakshi-Devi Mandir, with Pujas, Hawana and a grand Purnahuti, in the presence of Shri Swami Vishveshwarananda, Swami Satchidananda, Kumari Somashekhari, Shri Sukumar and several Devotees of Omkarananda Ashram Himalayas.
This event was also attended by three special guests, who had come from Europe for a few days visit to India, namely Swamini Vivekananda, General Secretary of Omkarananda Ashram Switzerland, Shri Nathan and Ganga Devi.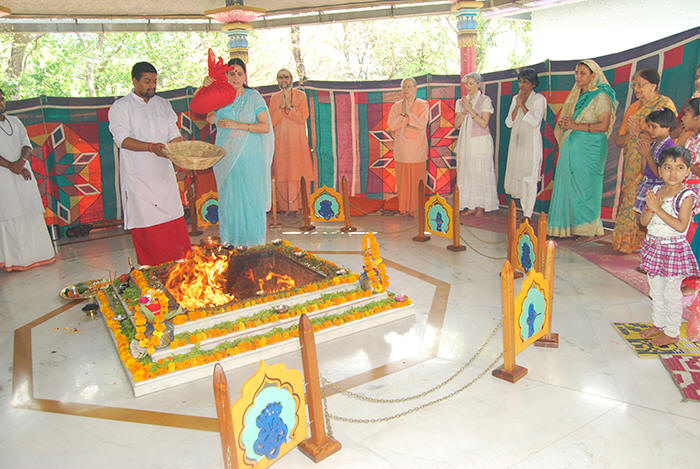 Purnahuti by Kumari Somashekhari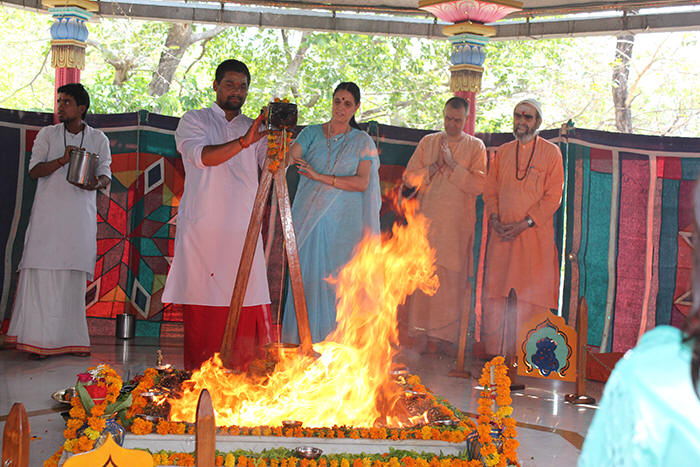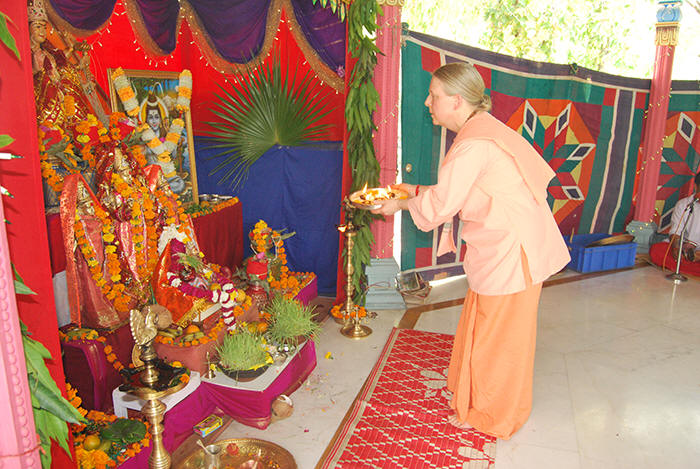 Swami Vivek­ananda, Omkarananda Ashram Switzerland, offers Arati to the Deities.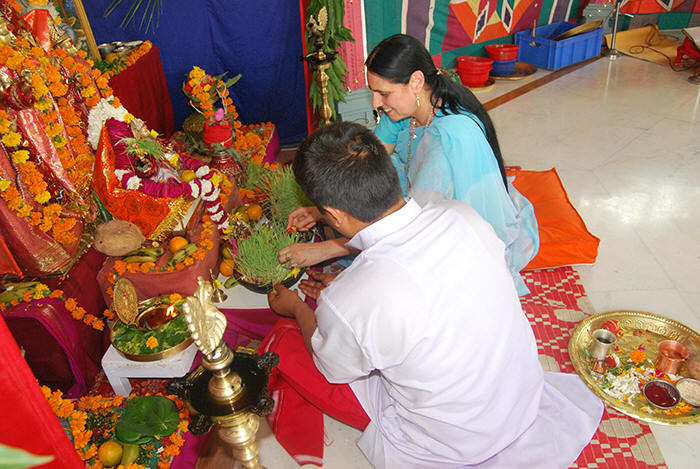 The Hariyali, the sacred wheat grass, which has grown during Durga Pujas,
is being cut by Kumari Somashekhari on Vijaya Dashami.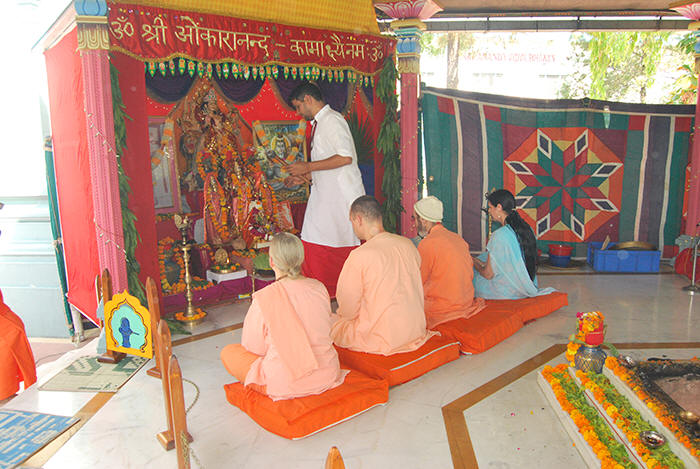 From left to right: Swami Vivekananda, Swami Satchidananda, Swami Vishveshwarananda
and Kumari Somashekhari receive Blessings from the Priest.
When Purnahuti was completed, Kumari Somashekhari was requested to do a small Puja at the Altar of Omkarananda-Shanta-Durga and cut the green Wheatgrass, the "Hariyali", which had been nicely growing there during the Navaratri time. The Hariyali was first distributed to the Deities and then to all Devotees.
After Arati the Kanya-Puja took place, which is always very much liked by each and everybody.
9 Kanyas, small girls, below the age of nine, one small boy (as a Representative for Lord Shiva) and a Suvasini, were seated in the Temple Hall of Omkarananda-Kamakshi-Devi Mandir.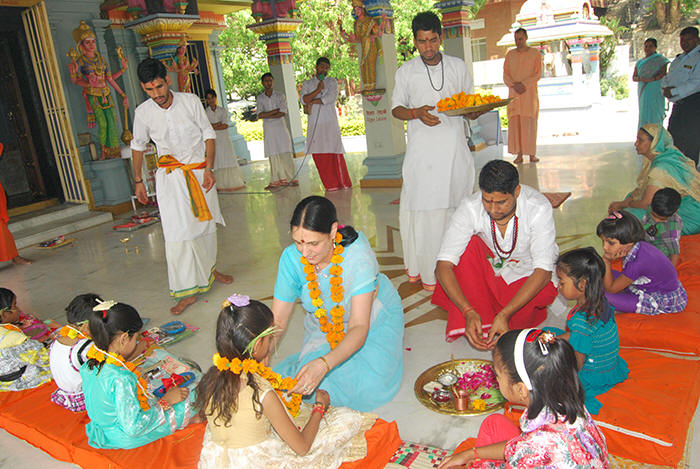 Kumari Somashekhari, assisted by the Priests, offers Malas and gifts to the nine Kanyas.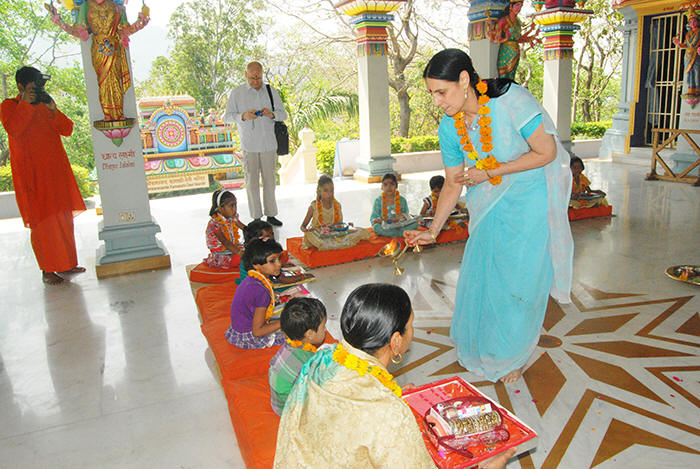 The children are blessed with the Arati, offered by Kumari Somashekhari.
With the help of the Priests Kumari Somashekhari performed Puja for all the nine cute Kanyas and offered beautiful gifts to them, which they happily received. The same was done with the small boy and the Suvasini.
All Devotees watched this event in great joy.
After the heart-touching Kanya-Puja was completed, a very delicious Prasadam was distributed to all.
OM
SHRI OMKARANANDA-SHANTA-DURGA KI JAY !!!
OM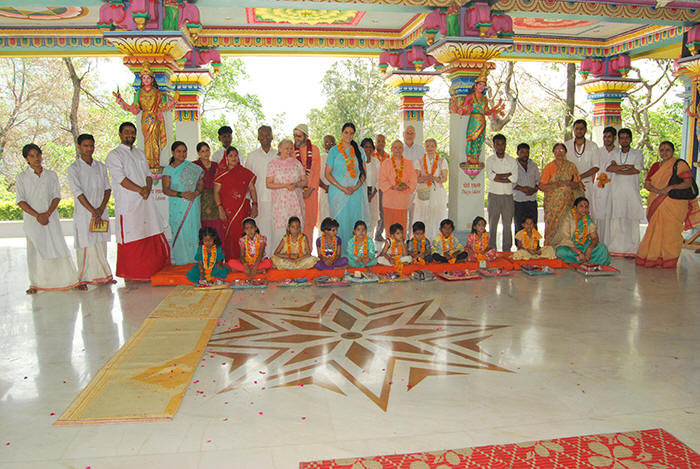 Group photo at the conclusion of Navaratri with the nine happy Kanyas.