Navaratri Celebrations
in Omkarananda Ashram Himalayas from 4th to 13th April 2011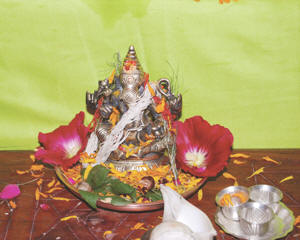 Lord Ganesha for the smooth protection.
As every year in spring and in autumn special decorations were made for the great festival of Navaratri - the nine days worship for Goddess Durga. Omkarananda-Kamakshi-Devi Temple was looking extremely beautiful with its shining colourful lights all around. An Altar was specially erected with Gurudev, Durga and other Deities, who were fully surrounded with flowers and incense as well as the necessary Puja items for the coming days.
Daily in the morning elaborate Pujas were conducted and after Arati everybody could receive the Prasadam.
Everyday an additional powerful Yajna - a traditional Vedic ritual - was performed in the evening, again followed by Arati and Prasadam.
On 12th April evening after the Arati, Kumari Somashekhari and her students performed typical Indian Classical Dances in front of Omkarananda-Kamakshi-Devi. Swami Vishveshwarananda offered thanks to the wonderful dance Artists and also to all the Priests who worked very hard to make Navaratri a truly divine function.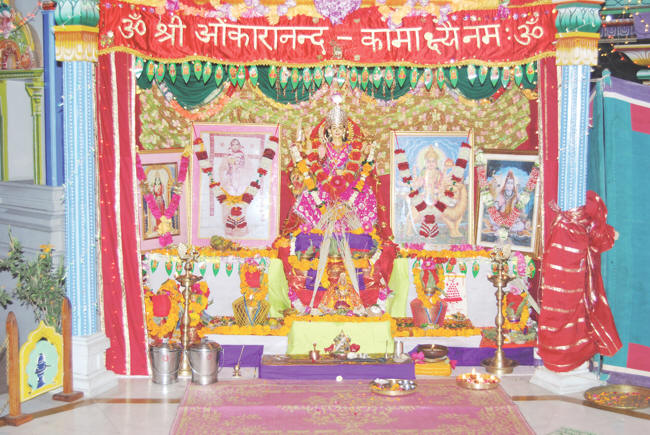 As every Navaratri a nicely decorated Durga along with Gurudev
and different Deities, full of flowers and lights.
Purnahuti by Priest Mukesh and




Swami Vishveshwarananda.

Prayers by the Priests of Omkarananda-Kamakshi-Devi Temple.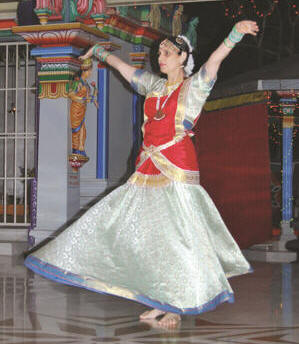 On the next day, Vijaya Dashami, after the final Yajna, the very exciting Kanya Puja took place. Nine small girls and a married Lady, a Mother of children, were honoured. Somashekhari blessed all of them with Tilaka, sprinkled Ganges water, gave each and every one a nice flower mala and finally all of them received very beautiful gifts. The Mother, who was a special invitee, was offered a beautiful Saree. All these offerings were made while the Priests were chanting the holy Mantras. In the end a special Bhandara was arranged for the nice Kanyas.
Navaratri was also simultaneously celebrated in other Temples of Omkarananda Ashram Himalayas, like in Omkarananda Dipeshwar Mandir, Lakshmanjhula, a beautiful Temple situated directly at the Ganga, next to the famous Lakshmanjhula Bridge, and also in Omkarananda Radha-Krishna Mandir, Dehradun Road, Rishikesh.
This Navaratri again - because a lot of hard work and effort has taken place - was well organised, very powerful and the eternal Presence of Paramahamsa Omkarananda Saraswati could be felt by each and every one.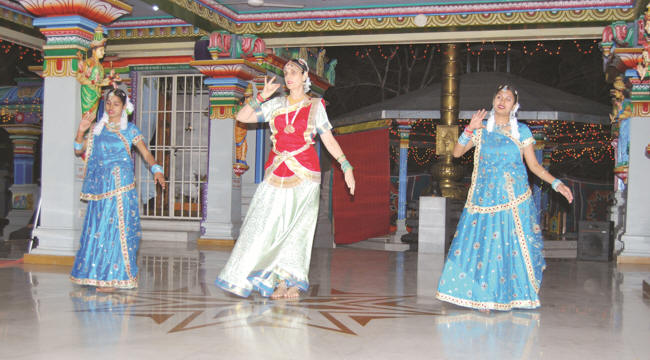 Kumari Somashekhari and her students worship Durga Devi with a special Dance performance.
Swami Vishveshwarananda offers Thanks to the Artists and Priests


and speaks about the importance of Navaratri.
Swami Vishveshwarananda with




Priests conducting Yajna.

Swami Satchidananda and visitors




attending the Arati.
Kumari Somashekhari offers wonderful presents


to the 9 Kanyas, applies Tilaka, gives them a Mala
and worships them as Devis.