Navaratri Celebrations in Omkarananda Ashram Himalayas,
27th March to 4th April 2009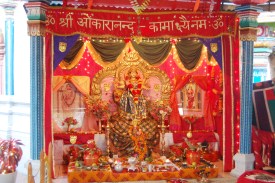 A beautifully decorated Altar during Navaratri
Navaratri is considered a very special time, especially dedicated to Goddess Durga, who bestows health, wealth and prosperity. This great Goddess also shields and protects the human beings from all sorts of demons or negative forces.
Navaratri is celebrated twice in a year with great zeal and devotion in Omkarananda Ashram. During Navaratri the Murti of Omkarananda-Shanta-Durga is taken out and placed into a Pandal, at the Yajnashala of Omkarananda-Kamakshi-Devi Mandir. The Pandal in which the Murti was kept, was decorated gorgeously. During Navaratri, every day, from early morning till noon, special Durga Pujas and Prayers were conducted and in the evening additional Hawanas, Aratis, Bhajans, Kirtans etc. were performed by the Chief Priest Suresh Shastriji and his team.
This year Vasant Navaratri started from 27th March.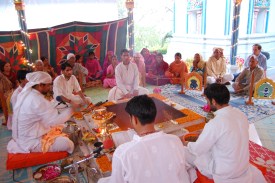 Powerful Yajnas during Navaratri time
On 2nd April 2009, after the special Hawana and Arati for Devi were completed, there was a special devotional Dance performance by Kumari Somashekhari and her students for the Divine Mother in the Temple, in front of Omkarananda-Kamakshi-Devi. During this event a great number of devotees had joined in the Temple.
On Vijayadashami, on 4th April 2009, a grand Hawana was conducted with final Purnahuti. After this the Navaratri celebrations came to conclusion with Arati and Prasad distribution, followed by worship of 9 small girls or Kanyas, 1 small boy, representative of Lord Shiva and one married lady, a Suvasini. They all were given beautiful gifts and Prasadam.
Powerful Yajnas during Navaratri time
Kumari Somashekhari and two of her students
After Yajna Purnahuti was offered
Kumari Soma Shekhari is performing Arati
The children are rewarded by visitors
Devotees During Arati

Somashekhari is glorifying the Divine Mother




through dance

Special Dance-performance in which




Devi is worshipped