Vasant-Navaratri Celebrations in Omkarananda Ashram Himalayas
from 19th to 28th March 2007
Omkarananda Ashram Himalayas celebrated Vasant-Navaratri from 19th to 28th March 2007 with full fervour. The Pandits of Omkarananda-Kamakshi-Devi Mandir conducted this festivity in the Yajnashala of the sacred Temple.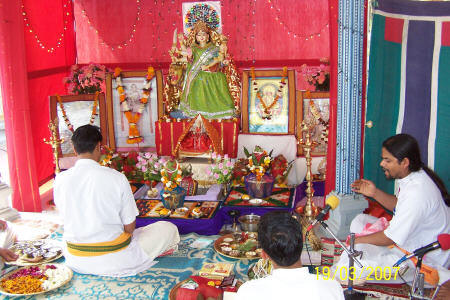 The most auspicious rituals commenced in the morning of 19th March with Yantra Sthapana, Bhadra Sthapana and Kalasha Sthapana, in which the holy Kalashas were installed along with chanting of hymns. This grand event was followed by Shodashopachara and Gurudev Pooja. The last morning ritual was Chandi Parayana that concluded with Arati, Bhog and distribution of Prasadam for the devotees and invitees.

From 20th to 27th March 2007, daily in the morning at 8 a.m., Devi Pooja, Navaavarana Puja, Durga Saptashati Parayana and Gurudev Pooja were devoutly performed, followed by Arati, Bhog and distribution of Prasadam.

In the evenings, after the Poojas for all the Deities, a special Hawan was performed every day for all Deities, namely Ganapati, Mahalakshmi, Rudra, Chandi, Durga, Guru and Tripurasundari.

Swami Vishveshwarananda, Kumari Somashekhari
and Swami Satchidananda during Hawana

Shri N.N. Tayal and his wife being received
On 28th March morning, Vijaya Dashami, the Navaratri Celebrations were concluded with Sarva-Devata Pooja, Devi Pooja, Sarva-Devata Hawana, Nava­avarana Hawana, Durga Saptashati Homa, Maha Purnahuti, Kanya Pooja, Suvasini Puja and Devata Visarjana. Swami Vishveshwarananda, Swami Satchidananda, Swamini Vidyaprakashananda, Swamini Vedamatananda, Swami Narasimhulu and Kumari Somashekhari took part in it, and many guests watched the Hawan with enthusiasm. Swami Vishveshwarananda, President of Swami Omkarananda Ashram, performed the auspicious Purnahuti with great devotion.

| | |
| --- | --- |
| | |
| Gifts for the Kanyas | Bhandara for the Kanyas |
After completion of the Purnahuti, nine small girls (Kanyas), were worshipped as Goddesses with Puja, Arati, Prasadam etc. Beautiful gifts of various items were presented by Kumari Somashekhari to those children.
Swamini Vidyaprakashananda honoured a young married Lady, whose husband is alive, a "Suvasini", with Puja and gifts.
In the end all received the Prasadam in the form of Bhandara and thus the Vasant Navaratri concluded. Everybody taking part in it, deeply felt the unforgettable powerful spiritual vibrations of this beautiful event in Omkarananda Ashram Himalayas.