Vasant-Navaratri Mahotsava
April 9 to 18, 2005
Omkarananda Ashram Himalayas, Muni-ki-reti, celebrated Vasant Navaratri Mahotsava between April 9 to 18, 2005, with full dignity and great devotion. Six Pandits conducted this celebration meticulously.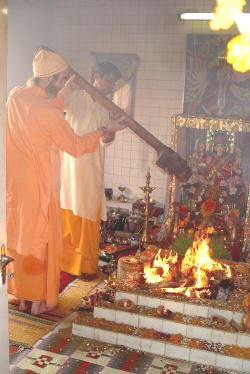 Swami Vishveshwarananda
performing the Purnahuti
The auspicious rituals began in the morning of April 9th at 7 a.m. with Panchanga Pooja and Kalasha Sthapana, in which the holy Kalasha was installed with chanting of hymns. It was followed by Devi Maha-Abhishekam followed by Mandapa-Devata Pooja, Yantra Pooja, Chandi Pooja and Guru Pooja. The last ritual of the morning session was Chandi Parayana by the priests. The morning programme concluded with Arati, Bhog and distribution of Prasadam.
In the evening, Pooja was conducted for all Deities. Mahaganapati Hawana was performed after Agnimukham.
From April 10 to 17, daily in the morning at 8 a.m. Panchanga Pooja, Devi Maha-Abhishekam, Yantra Pooja, Durga Saptashati Parayana were conducted followed by Arati, Bhog and distribution of Prasadam.
In the evenings, after the Poojas for all the Deities, a special additional Hawana was conducted, every day for another Deity, on April 10 a Mahalakshmi Hawana, on April 11 Rudra Hawana, on April 12 Chandi Hawana, on April 13 Durga Hawana, on April 14 Guru Hawana, on April 15 Navavarana Hawana with Lalita-Trishati-Namavali, on April 16 Devi Hawana with Lalita-Sahasra-Namavali and on April 17 Ganapati Hawana.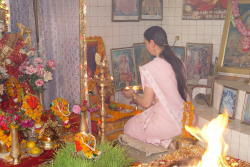 Km. Somashekhari performs
Omkarananda Arati after the Yajna
April 18, the concluding day of the Mahotsava, was celebrated with Sarva Devata Pooja, Devi Pooja, Agni Mukham, Sarva Devata Hawana, Navavarana Hawana, Chandi Pooja and Homa, Maha Poornahuti, Kanya Pooja and Devata Visarjana. The Hawana on this day lasted for hours and was very powerful. Swami Vishveshwarananda, Swami Satchidananda, Swami Narasimhulu, Kumari Somashekhari and others took part in it. Swami Vishveshwarananda, President of Omkarananda Ashram, did the grand Purnahuti with greatest devotion.
After completion of the Purnahuti 9 small girls, or Kanyas, were worshipped as Goddesses with Puja, Arati, Prasadam etc.
Kumari Somashekhari offering




presents to the Kanyas

The nine Kanyas enjoy the Prasadam
Great care was taken by the Ashram to give most beautiful and exquisite gifts to the 9 Kanyas to make them very happy. The gifts were presented by Kumari Somashekhari.
In the end everybody received the Prasadam, which was offered as a Bhandara and served to the participants.