Visit of Nursery and KG Students of Omkarananda Saraswati Nilayam
to Omkarananda-Kamakshi-Devi Temple,
on 3rd October 2012
It was a joy to see 200 small cute Nursery and KG students from Omkarananda Saraswati Nilayam along with their teachers and assistants, paying a visit to Omkarananda-Kamakshi-Devi Temple, on 3rd October 2012.
After having the Darshan of Omkarananda-Kamakshi-Devi all the children, with the Teachers and the Temple-Priests started reciting the Gayatri Mantra and other Prayers. The Priests then applied the Tilak to each and every child and blessed them.
In spite of so many youngsters, there was absolute peace and discipline and a wonderful atmosphere.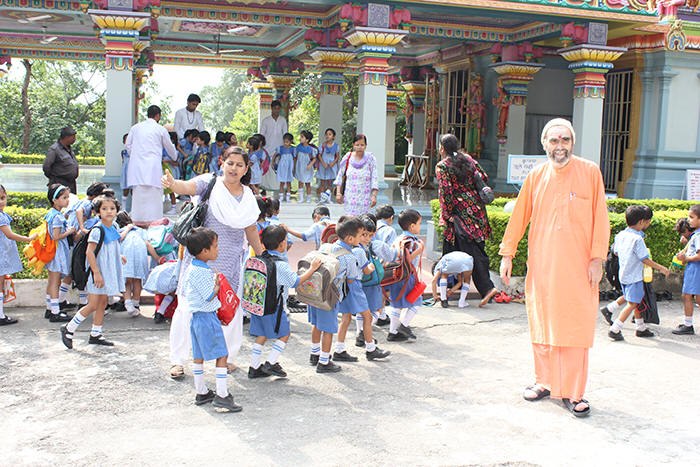 Nursery and KG Students of Omkarananda Saraswati Nilayam are welcomed
by Swami Vishveshwarananda, while entering Omkarananda-Kamakshi-Devi Mandir.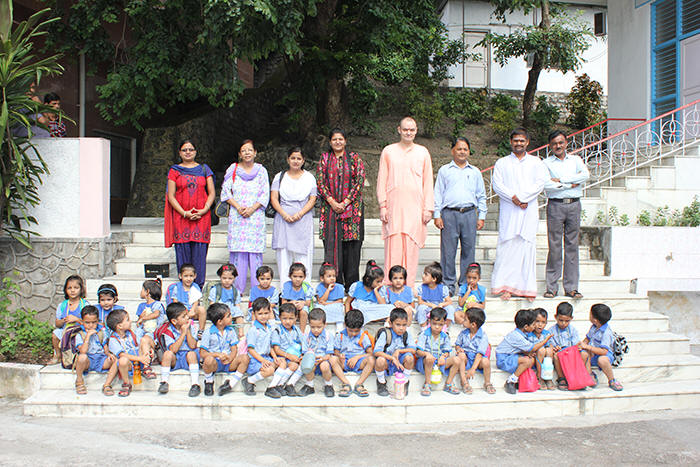 A few students and teachers assembled
for a group-photo with Swami Satchidananda.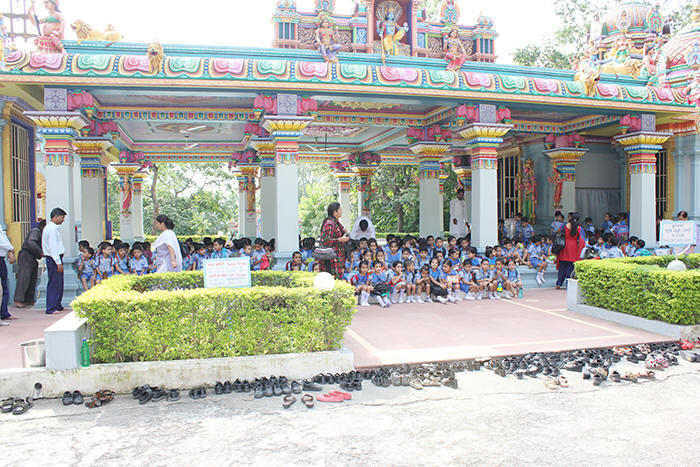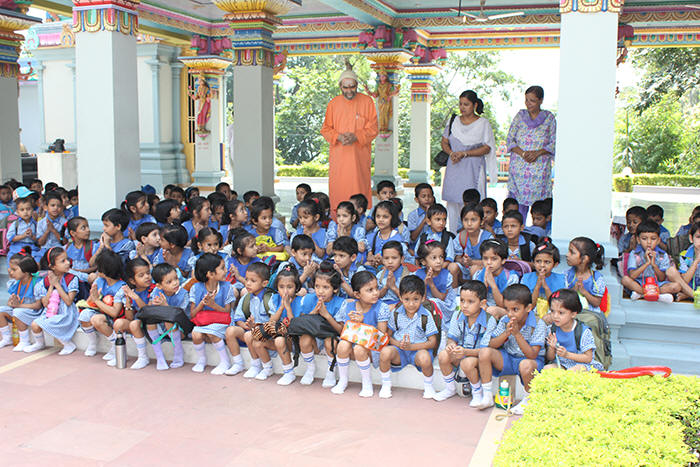 After having Darshan of all the Divinities
the School-kids sit down for Prayers.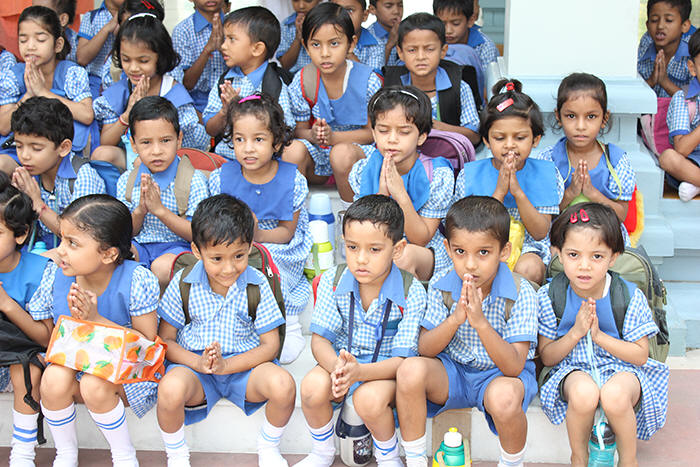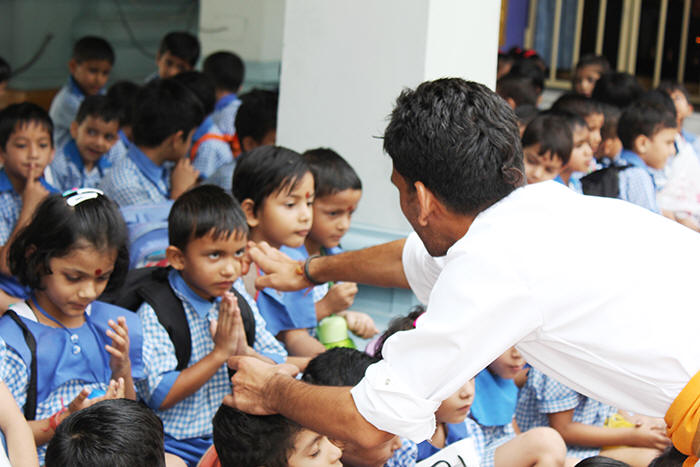 The Priest is applying Tilak.
With the teachers' guidance the kids went nicely in line to Omkarananda Vidya Bhawan, where they could enjoy a good picnic. Happily those small, small boys and girls were sitting around, chatting and enjoying some food, which had been prepared by their parents.
Before the kids were leaving to their respective School-Buses, Swami Vishveshwarananda and Kumari Somashekhari distributed toffees to every student. One could see visibly happy boys and girls.
It was wonderful when the area of the Headquarters of Omkarananda Ashram Himalayas with its colourful Temples, was surrounded beautifully by little Omkarananda Saraswati Nilayam School-Children in their nice School-Uniforms.
They all proceeded happily to their buses to join again the School.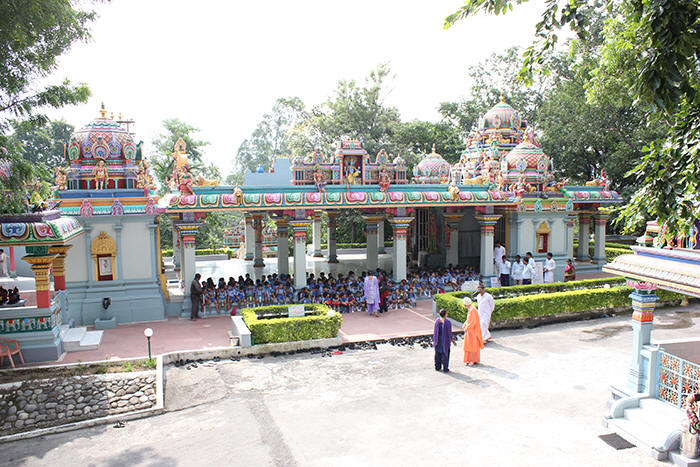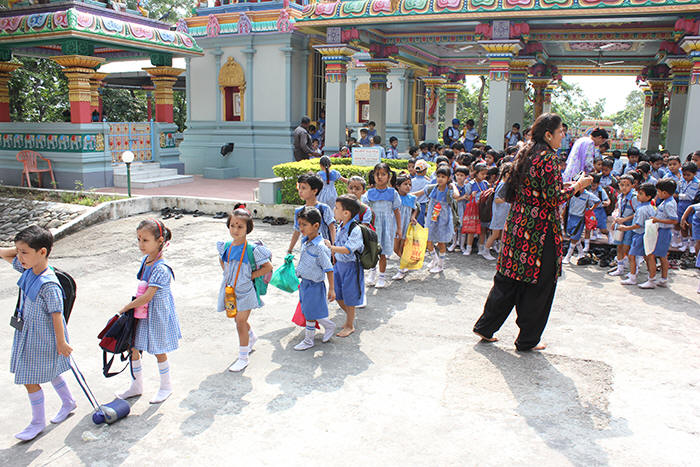 After the Prayers in Omkarananda-Kamakshi-Devi Mandir the School-Children
proceed to the Hall of Omkarananda Vidya Bhawan for enjoying some snacks.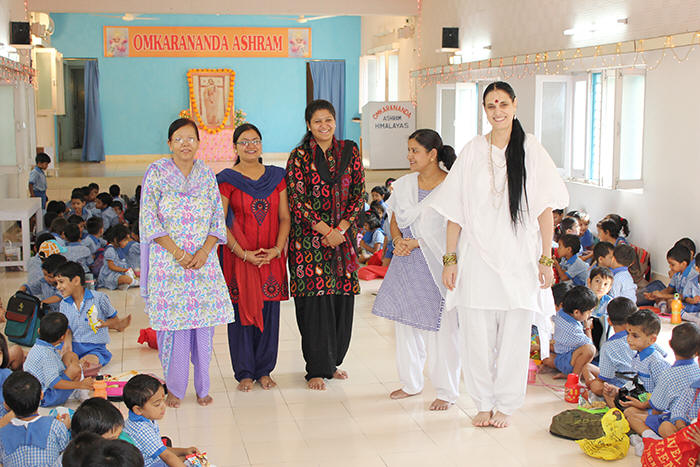 Kumari Somashekhari (in white) surrounded
by happy OSN School Teachers and children.
Kumari Somashekhari distributes Toffees,




while the children return to the School.