Visit of Omkarananda Saraswati Nilayam Students
to Omkarananda-Kamakshi-Devi Mandir
on 3.10.2006
The Guru is defined as "One Who Removes Darkness"; Guru-Purnima is the day chosen to honor all such Enlightened Masters. At Omkarananda Ashram Himalayas, the events of 11th July, 2006 were dedicated to our most important spiritual treasure: Sadgurudev Paramahamsa Omkarananda Saraswati.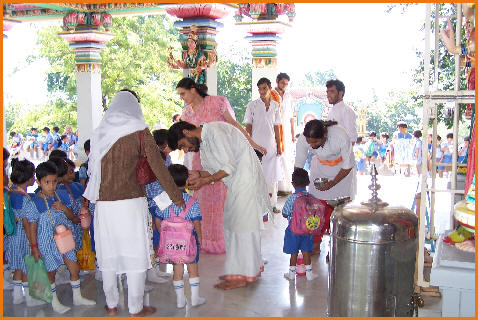 Our Temple-priests put Kumkum-Tilak on the forehead of the children
H.H. Swami Vishveshwarananda, President, Omkarananda Saraswati Charitable Trust, Km. Somashekhari, Director, Omkarananda Saraswati Natya Kala Academy, the School Management, Principal Col. (Retd.) D.L. Sachdeva, and the staff congratulated her on this impressive achievement; Swamiji is giving his blessing for her continued success.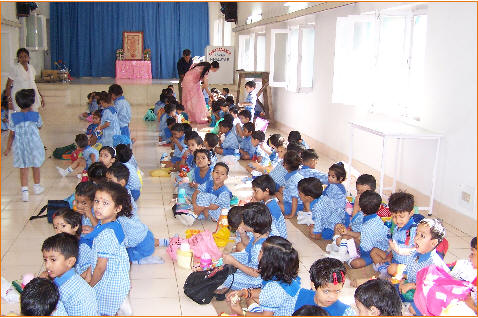 The school-children enjoy a nice picnic
In closing, the respected Principal, Col D.L. Sachdeva, gave a vote of thanks to all participants, teachers, parents and invited guests for their collaborative efforts in creating a successful and enjoyable Independence Day celebration.