Vijaya-Dashami:
Conclusion of Navaratri-Celebrations and Kanya Puja,
on 17th October 2010
As every time, the final day of Navaratri is always very special. It is the day where in form of prayers, final Purnahuti, etc., Thanks are being given to Durga Devi for Her timeless blessings, which all could receive. And this time, even the holy wheat grass, at the Kalasha of the Durga Altar, had grown bigger there as usual, which, according to the Priests, was an auspicious sign of special good indications.
Somashekhari is blessing the nine Kanyas,




who were invited for this special occasion.

Every Kanya is receiving special gifts.
Swami Vishveshwarananda and the Priests perform




a special Yajna on the last day of Navaratri.

Every Kanya is receiving special gifts.
Somashekhari is performing Suvasini Puja.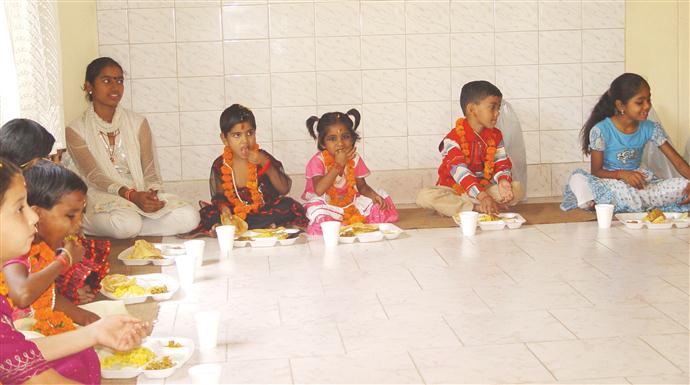 Special Bhandara for the Kanyas.
Kumari Somashekhari later performed Puja to nine nice Kanyas (small girls). The cute looking small babies were being given wonderful gifts and Dakshinas.
After that the Kanyas proceeded for Bhandara.