Sharadiya Navaratri Celebrations in Omkarananda Ashram Himalayas
from 5th October to 13th October 2013
The holy days of Navaratri, dedicated to the Divine Mother, are appearing two times a year according to the Indian Calendar, once in the spring season and once in autumn.
According to that, the Navaratri-Festival is celebrated twice in a year in Omkarananda Ashram Himalayas.
The Sharadiya Navaratri, or the Navaratri, which falls in the autumn season, started on 5th October 2013 with extensive Pujas and Arati in the morning and a grand extra Hawana and Arati in the evening time, in the Yajnashala of Omkarananda-Kamakshi-Devi Mandir, at a beautiful Altar of Omkarananda-Shanta-Durga, and continued daily, till Vijaya Dashami, on 13th October 2013.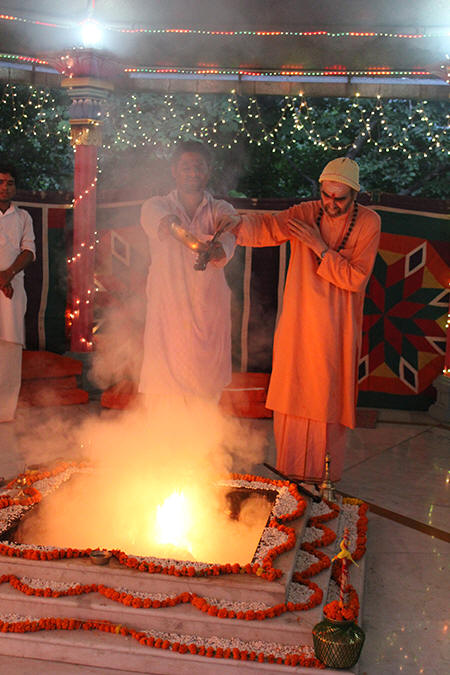 A beautiful Purnahuti by Swami Vishveshwarananda
along with the Chief Priest Suresh.
All direct Sannyasi disciples of Paramahamsa Omkarananda Saraswati, namely Swami Vishveswarananda, Swami Satchidananda and Kumari Somashekhari, took actively part in this daily special Navaratri worship along with the Omkarananda Ashram Priests and other Ashram Members.
Every day devotees from different parts of India and also abroad assembled to watch these wonderful Celebrations for Divine Mother Durga.
In the night of the 12th October 2013, on Ashtami, a devotional Dance-performance took place in the Temple Hall of Omkarananda-Kamakshi-Devi Mandir.
Guru-Bhakti-Ratna Kumari Somashekhari danced 4 different Bharatanatyam Temple-Dance items in front of Omkarananda-Kamakshi-Devi.
The essence of these dances was explained to the audience in English by Somashekhari's student Neha, who was the Master of Ceremony on this occasion.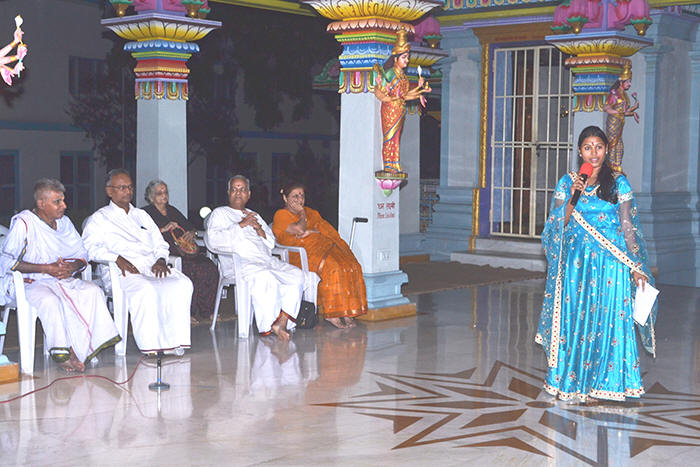 Kumari Neha is guiding the audience through the whole function.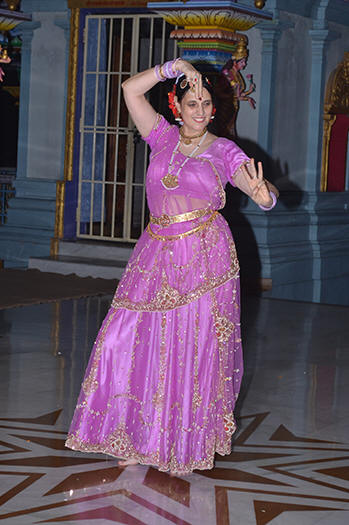 An excited Somashekhari gives a highly spiritual touch through her graceful performance.
The spiritual dances, performed by Kumari Somashekhari with her divine expression on her face, were a great inspiration for the audience. Some devotees later on remarked that they felt a great purity in the way, Somashekhari presented her dances.
Shri G. Sukumar, Trustee Omkarananda Ashram Himalayas, read out a speech on the meaning of Navaratri.
As conclusion of this special, divine event, the President of Omkarananda Ashram Himalayas, Shri Swami Vishveshwarananda Saraswati, praised, thanked and honoured the Priests of Omkarananda Ashram Himalayas, who put in a lot of extra hard work for the Navaratri Celebrations. Swamiji also thanked Kumari Somashekhari for her dance-performances and he mentioned that Temple-Dance, performed with deep devotion and highest purity, is a very important part of worship in Omkarananda Ashram Himalayas, and a source of great Delight for all Divinities.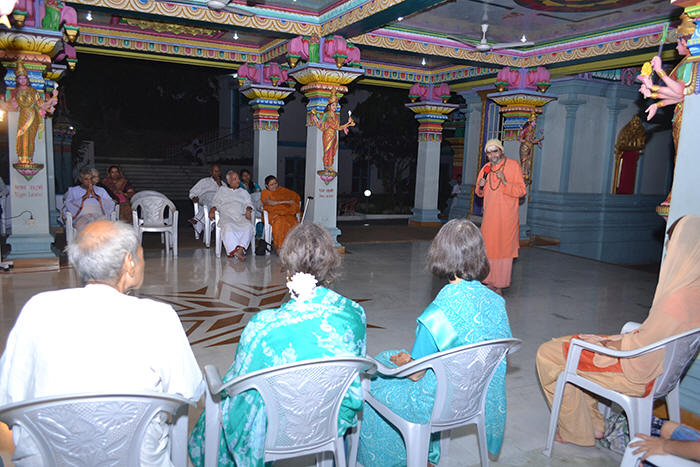 Swami Vishveshwarananda highlights the importance of Navaratri.
Swami Vishveshwarananda also threw light on the importance of Navaratri and Devi-Worship as a means for purifying one's life for a fast spiritual progress and lasting happiness.
Swamiji did not forget to mention special thanks for Shri Sukumarji, Kumari Neha and others for their contribution to a beautiful Navaratri Celebration in Omkarananda Ashram Himalayas.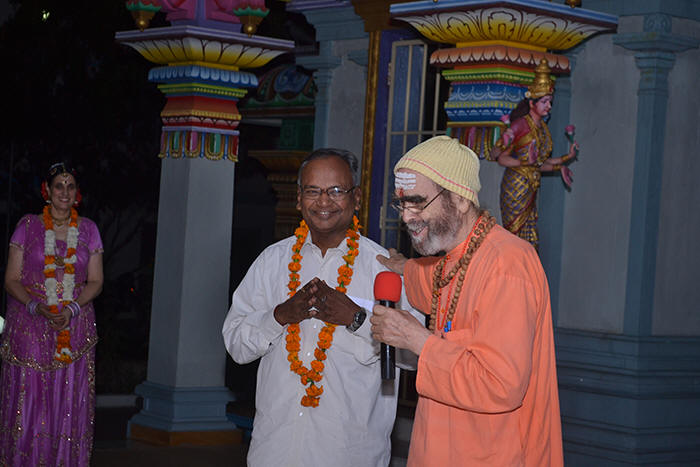 Shri Sukumar, Trustee, in a happy mood, after he had been honoured by Swami Vishveshwarananda.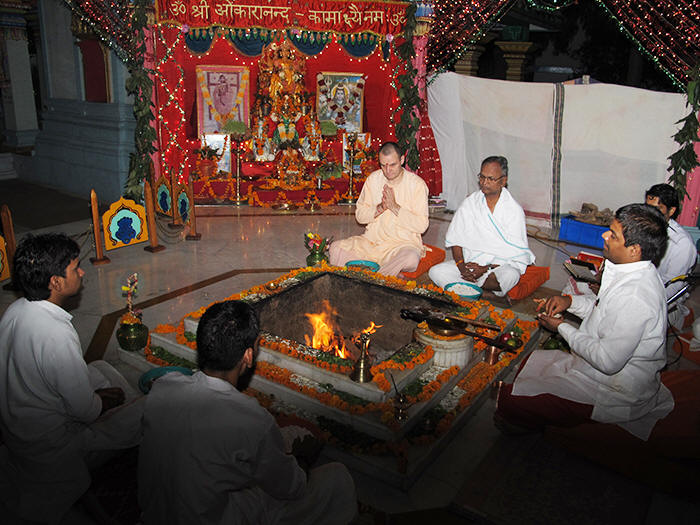 Yajna in the night of Ashtami by Swami Satchidananda,
Shri Sukumar and the Priests of Omkarananda-Kamakshi-Devi Mandir.
Shri Swami Vishveshwaranandaji's inspiring spiritual encouragement and very kind and warm Vote of Thanks were appreciated by one and all.
On behalf of everybody present, Shri Sukumarji offered a beautiful flower garland to Swamiji, as a sign of their adorations and thanks to Swamiji.
Several devotees from different countries went to Swami Vishveshwaranandaji to express their deepest gratitude.
After having a special Devi-Prasadam, all devotees and guests left to their respective places, carrying divine inspiration and joy in their hearts.
On the following day, on 13th October 2013, Navami and Vijaya Dashami were falling together. On this special day the Sharadiya Navaratri in Omkarananda Ashram Himalayas was concluded with very extensive Pujas and a grand and powerful Hawana and Purnahuti and final divine Blessings for all Ashramites and Devotees.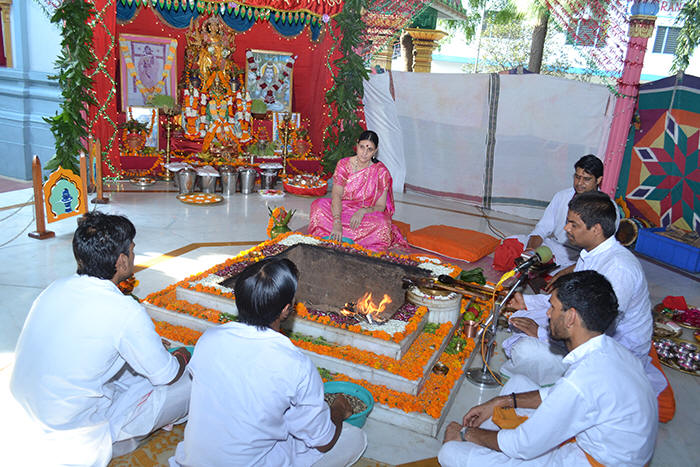 Mahayajna on Vijayadashami by the Priests of Omkarananda-Kamakshi-Devi Mandir along with Kumari Somashekhari.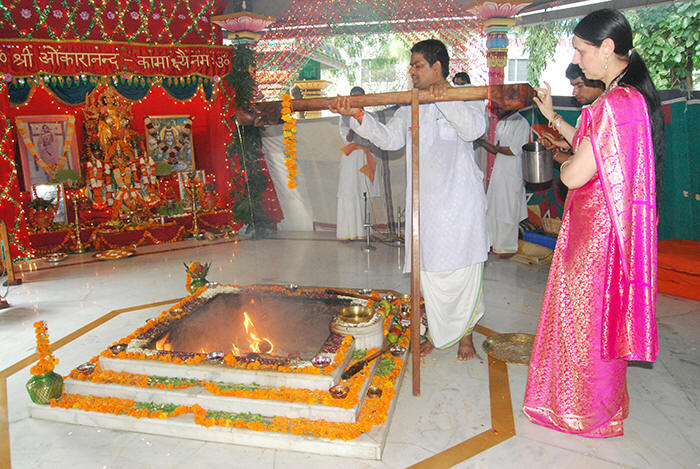 Final Purnahuti by Somashekhari and the Chief Priest Suresh.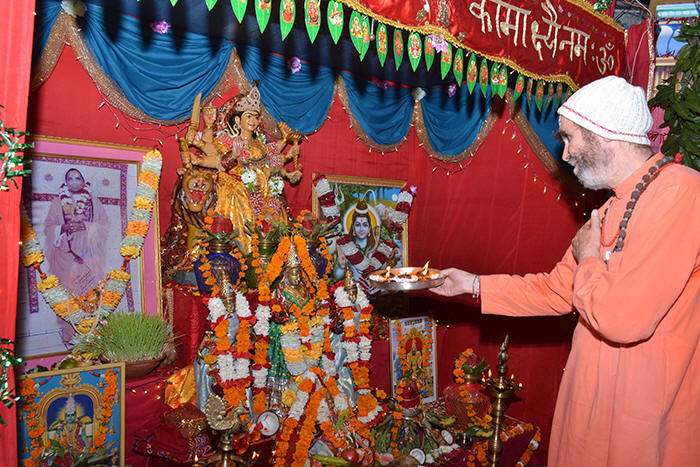 Swami Vishveshwarananda offering Arati to all the Divinities.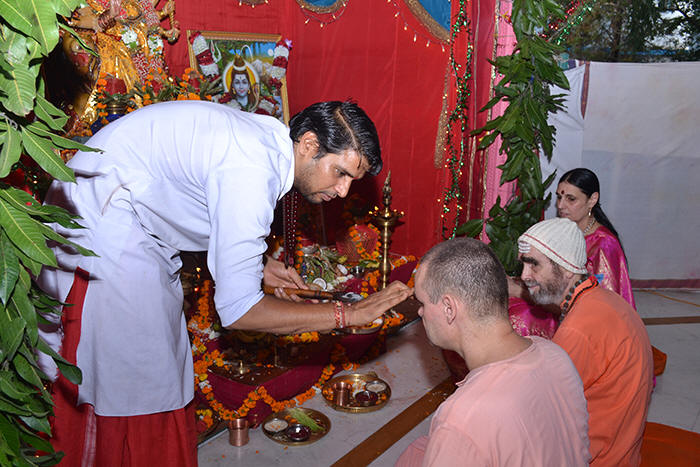 Sanjay Panditji applies Tilak to Swami Satchidananda.
Kumari Somashekhari performed the final Purnahuti, assisted by the Priests, and then cut the holy wheat-grass, the "Hariyali", which had grown at the Altar of Omkarananda-Shanta-Durga during Navaratri. The Hariyali was afterwards distributed to all devotees.
Nine Kanyas, nine small girls below the age of 9 years, one Suvasini and one small boy as representative of Lord Shiva, were worshipped by Kumari Somashekhari and the Priests in the Temple Hall of Omkarananda-Kamakshi-Devi Mandir and given beautiful gifts.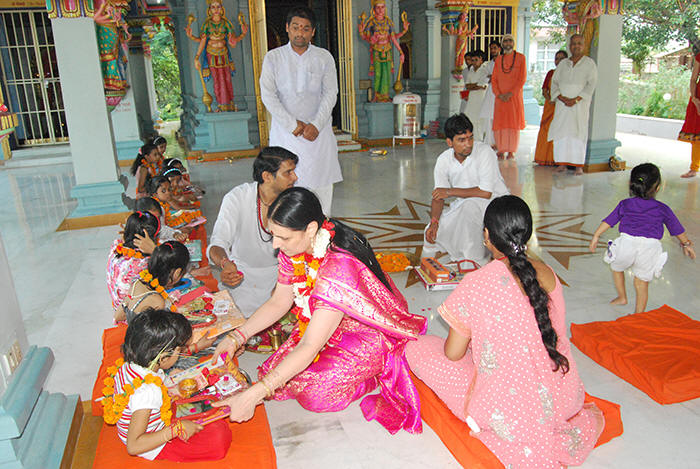 Kumari Somashekhari, assisted by the Priests, is offering nice gifts to all the nine Kanyas.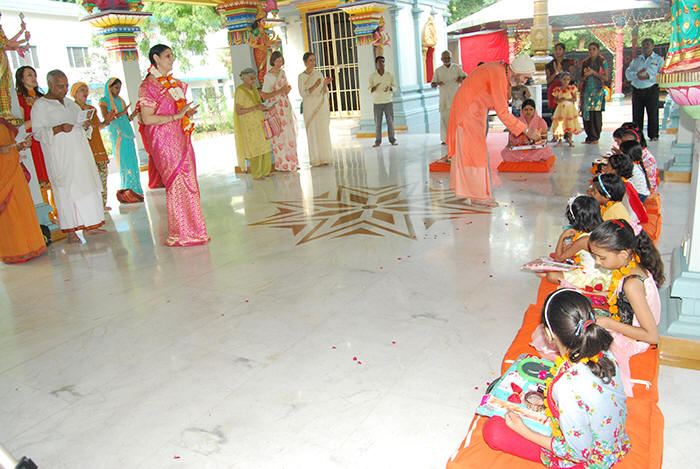 All the children were blessed through the Arati by Swami Vishveshwarananda.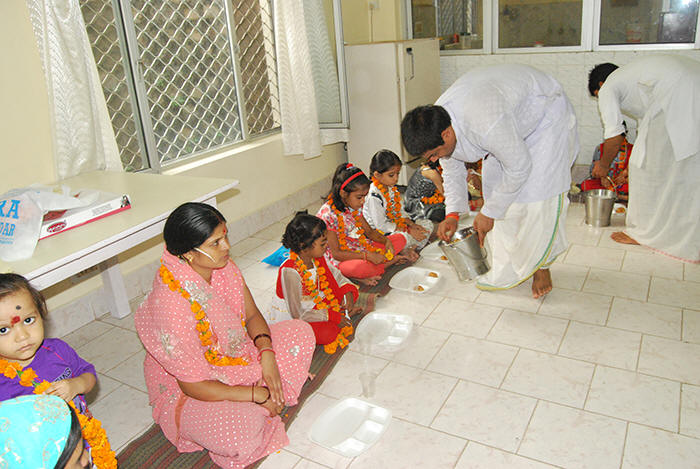 A special Bhandara was arranged for all the nine Kanyas including a Suvasini and one boy.
After this wonderful ceremony they were invited for a Bhandara, served by the Omkarananda Ashram Priests.
OM
SHRI OMKARANANDA-SHANTA-DURGA KI JAY !!!
OM