A Day of Victory-Vijaya Dashami Celebrations
A day for a new beginning for devotional people from all walks of life. With festive fervour all around this is celebrated with great pomp and gaiety all over the world wherever the spirit of Hinduism is prevalent.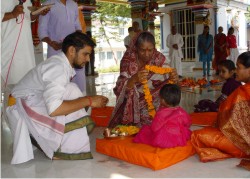 In our Omkarananda Ashram Himalayas, with the blessings of Sadgurudev H.D. Shri Swami Omkaranandaji Maharaj, the 9 days Navaratri festival culminated into a crowning finale as Vijayadashami day celebrations. Acharya Sureshji and his team of young dedicated Brahmacharis had made earnest and excellent preparations for the Puja and Hawana.

It was nearly a six-hours programme of chanting, Puja and Hawana. Throughout the entire proceedings of the Hawana and Puja Shri Swami Vishveshwaranandaji Maharaj, President, Omkarananda Ashram, and Shri Swami Satchidanandaji Maharaj, Treasurer, Omkarananda Ashram, participated in the Hawana and Puja with devotion and dedication, that's been the tradition of this great Ashram. Holy chants reverberated in the hills of this holy land and the holy smoke from the Hawana spread far and wide intensifying the purity of this divine place.

Ashramites and guests, Shri Swami Narasimhuluji Maharaj, Shri Munnesh Kumar Agnihotri, Mr. and Mrs. Praveen Ramgoolam, great devotees from Mauritius, and many others graced the occasion.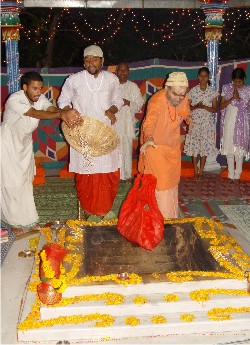 This holy function was concluded by the Kanya Puja. The essence of Vedanta – "Sarvam Brahma Mayam" - is reflected in these Pujas. The presence of the Divine Mother in a girl is invoked during this Puja and she is worshipped and showered with gifts. Nine girl children to represent the dynamic Shakti and one Bal Brahma­chari to represent the static Shiva had been specially invited and they were worshipped. On behalf of Omkarananda Ashram, Smt. Kamala Ramgoolam Mataji performed the worship to these ten children and gave them gifts. Other enthusiasts from outside also gave away gifts to these children.

In the following Sumangali Puja, Smt. Kamala Ramgoolam also was worshipped as a manifestation of the Goddess and she was presented gifts on this occasion. "Sumangali" is a married lady, whose husband is alive and who is bringing good luck and prosperity to everybody.

It was then time for Mahaprasad. A good number of children and devotees were treated to a sumptuous lunch. Everyone left for their home carrying with them wonderful memories of this celebration and most importantly the blessings of the Divine Mother and Sadgurudev Shri Swami Omkaranandaji Maharaj.

Shri Omkarananda-Kamakshi Mayya ki Jay !
Shri Gange Mayya ki Jay !
Sadgurudev Shri Swami Omkaranandaji Maharaj ki Jay !