Sadhu Bhandara on 26th December 2009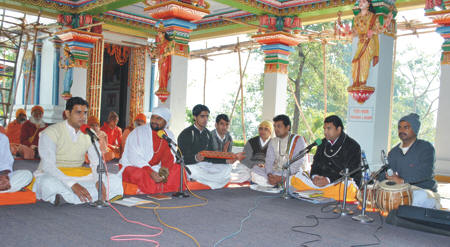 Bhajan & Kirtan in Omkarananda-Kamakshi-Devi Mandir
The place in Omkarananda Ashram, in front of Omkarananda Vidya Bhawan and Omkarananda-Kamakshi-Devi Mandir, was truly shining in orange colour. Over 120 Sadhus came for Bhajan-Kirtan and for Bhandara. In Omkarananda-Kamakshi-Devi Mandir Bhajan-Kirtan started in the morning with 4 musicians of Shri Gopalacharyaji and the Omkarananda Ashram Priests.
After a joyous and highly inspiring Bhajan, Shri Gopalacharyaji, in his fiery speech, spoke about Paramahamsa Omkarananda Saraswati and His great works. Shri Gopalacharyaji recalled the time of about 50 years ago, when he and Swami Omkarananda were very young in body. Gopalacharyaji described, that at this place, in Muni-ki-reti, where now beautiful Temples and a high class Educational Setup of Omkarananda Ashram have come up and make the place lively, only jungle was there, no road, no houses, nothing but dense jungle and wild animals. He also remembered that Swami Omkarananda, as a young Sannyasi, always used to go alone in the night to this jungle-area for meditation, not fearing the danger of wild animals, like deadly poisonous snakes, leopards, bears, etc., whereas usually nobody else would dare to go there in the night.
Shri Gopalacharyaji with Swami Vishveshwaranandaji,




Swami Prajnanandaji and Kumari Somashekhari

Swami Satchidananda welcomes the Sadhus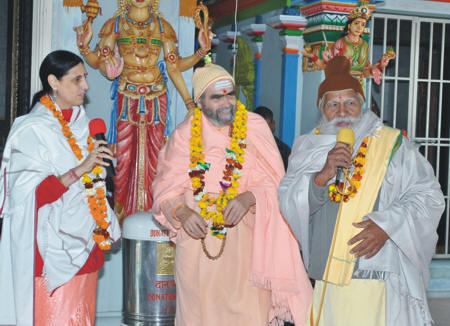 Gopalacharyaji and Swami Vishveshwarananda speak to the Sadhus
while Kumari Somashekhari is translating
Gopalacharyaji described it as a wonder and divine Grace, how Swami Omkarananda has changed the whole picture in Rishikesh, Muni-ki-reti and established many Educational Centres in the whole Garhwal area and very beautiful Temples in Muni-ki-reti and Rishikesh through his great dedicated disciple and Successor, Shri Swami Vishveshwarananda, along with the assistance of Swami Satchidananda, Kumari Somashekhari and others. Gopalacharyaji spoke about the great divine life of Swami Omkarananda, being a great example before all of us. His speech sometimes was gliding into a spontaneous musical expression, which enhanced the atmosphere to a heavenly extent.
Swami Pragyanandaji of Omkarananda Ashram spoke about divine knowledge and finally Swami Vishveshwaranandaji thanked all the Sadhus, appreciated their spiritual life and spoke about the wonder of Paramahamsa Omkarananda Saraswati. The speech was translated by Kumari Somashekhari into a perfect Hindi.
In the end the Sadhus were requested to sit for Bhandara and Swami Satchidananda rewarded every Saint with Dakshina.
It was a very beautiful scene when all the saintly people left Omkarananda Ashram with a smile and gratitude on their faces.
| | |
| --- | --- |
| | |
| During Omkarananda Arati | Sadhu Bhandara |
| | |
| --- | --- |
| | |
| | Swami Satchidananda distributes Dakshina to the Sadhus |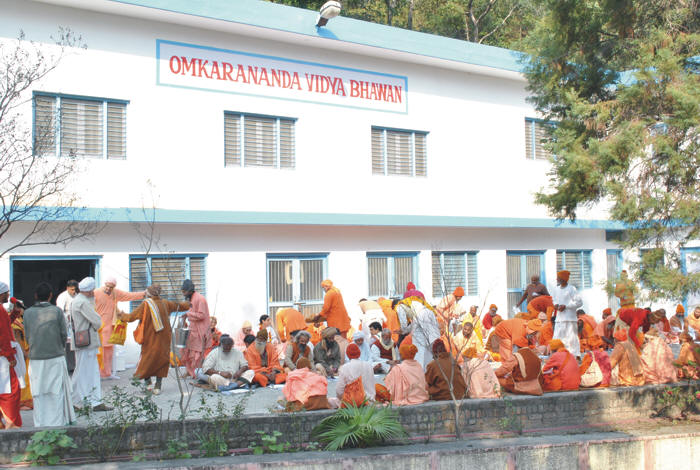 The Omkarananda Ashram area was shining in orange