Rajnikant's Surprise Visit to
Omkarananda-Kamakshi-Devi Mandir on 10th May 2007
One of the most popular actors in India, who is from South, not only likes acting, but is also deeply touched by the religious and spiritual values of the Indian Divine Culture. As a man, dedicated to the holy shrines of Uttarakhand and Mother Ganga, he was on his way visiting holy places, when he suddenly saw the majestic shrine of Omkarananda-Kamakshi-Devi, a Temple in typical South-Indian style. Shortly after having Darshan of the Devi and other Divinities, he expressed his feelings to our Swami Narasimhuluji Maharaj, Swami Vishveshwarananda, Kumari Somashekhari and friends.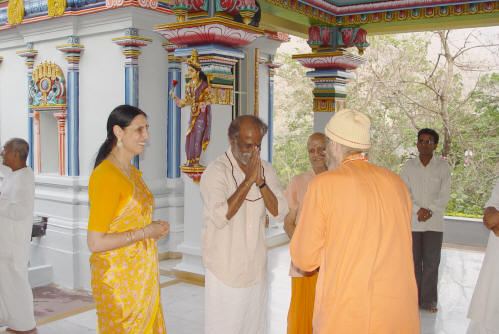 He was delighted to see the heavenly decorated Omkarananda-Kamakshi-Devi, whom he lovingly called "Ambal".
He told that he was very surprised and astonished to find such a beautiful South-Indian Temple in the Rishikesh area.
Swami Vishveshwarananda, President of Omkarananda Ashram Himalayas, seeing the deep devotion of Shri Rajnikant towards the Divine Mother, immediately offered a Rudraksha-Mala, being blessed by Omkarananda-Kamakshi-Devi, around his neck!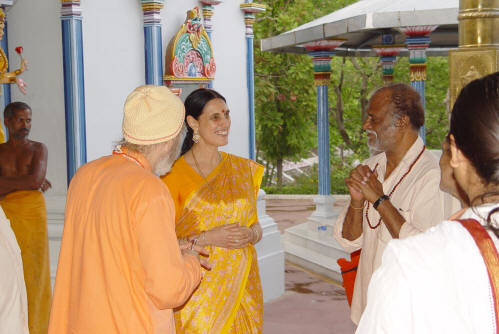 Before leaving the Omkarananda-Kamakshi-Devi Mandir Shri Rajnikant had requested Swami Vishveshwarananda and Kumari Somashekhari to pay a visit to his place in Chennai at any time whenever they will come to South-India.