On 15th December 2010, the small kids of Omkarananda Preparatory School enacted Shiva Parvati Vivaha, the mythological marriage of Lord Shiva and Goddess Parvati, at Omkarananda-Kamakshi-Devi Temple. A group of kids sang hymns and bhajans describing the divine marriage with an active participation of the audience, while the other group of small students enacted the scenes with full devotion.
The following story was shown by the children through acting and dance:
"Himalaya Raj, father of the bride, the Goddess Parvati, sends Naradji with the wedding invitation to Lord Brahma. Gods and Goddesses come nicely dressed. But the groom, Lord Shiva, arrives, riding his bull Nandi, wearing a tiger skin, snakes as ornaments and ashes smeared over his body. The friends of the bride are deeply worried by this strange appearance of the groom. But the bride remains completely confident about her choice and considers herself the luckiest one in the entire universe. The marriage is carried out with Vedic rituals and the newlywed couple leaves for the holy mountain Kailas. All are in bliss for having witnessed such a divine occasion."
Many parents were watching the colourful dances of these talented and well-trained small children. Usha Devi, Meenakshi Madam and all the teachers had tried their very best to make this event successful.
Mr. Shantilal Patel, Industrialist, was so impressed by the beauty of this function, that he spontaneously offered a special gift for the children.
Swami Vishveshwaranandaji thanked the parents, the teachers and all those who attended this event. Swamiji spoke about the importance of such type of spiritual functions. He said, that it is very good, that already small children get an impact of the Vedic culture and this is also a reason, that this wonderful culture in India is alive.
Lord Brahma and the Rishis discuss




the marriage of Shiva and Parvati.

Vishnu and Lakshmi come to attend the wedding.
Narada Muni (left) with different Gods and Goddesses.
Parvati is being prepared for the marriage.
Rishis perform Yajna for the divine marriage.
Exchange of garlands.
Swami Vishveshwarananda addresses the parents and Devotees Offering Deepas to Omkarananda-Kamakshi-Devi.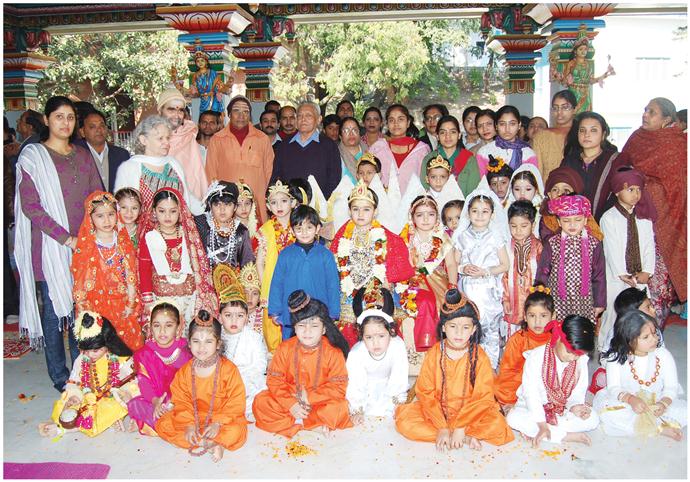 The performing school students with parents, teachers and guests.
In the end Arati was performed and Prasadam was distributed. The whole atmosphere was charged with an air of divine festivity.