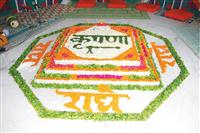 Flower decorations of Krishna


Janmashtami by the Priests of
Omkarananda-Kamakshi-Devi
Mandir
The birthday of Shri Krishna, the beloved Avatara of Lord Vishnu, was celebrated in a simple but most devotional way in Omkarananda Ashram Himalayas.
A beautiful 'Jhanki', a special Altar with a Murti of Gopala-Krishna in a swinging cradle, had been established by the Priests of Omkarananda Ashram Himalayas, at the Yajnashala of Omkarananda-Kamakshi-Devi Mandir. This Altar was ornamented in a traditional way with flower-decorations and shining deepas.
Special hour-long prayers were conducted by the Priests, interspersed with joyous Bhajans in praise of Lord Krishna.
After the evening Arati for Omkarananda-Kamakshi-Devi a devotional dance-performance took place in the Temple- Hall by Kumari Somashekhari and her students Neha, Pinky and Prachi.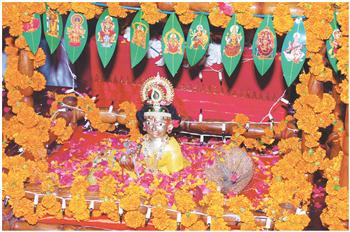 Krishna-Gopala in the cradle
Most of the dances were specially choreographed by Kumari Somashekhari.
All dances were dedicated to Lord Krishna and found great appreciation from the audience.
After the dance-performances were completed, Shri Swami Vishveshwarananda, President of Omkarananda Ashram Himalayas, addressed all devotees with an inspiring speech on Krishna Janmashtami and the importance of a spiritual life.
He thanked and honoured everybody, who had worked hard in contributing to make this Celebration a great success - the Priests, the Artists and also the Ashram-workers, who had rendered their help.
Then everybody proceeded to the special Altar of Gopala-Krishna, where Arati was performed.
After the Arati everybody could enjoy a special Prasadam.
The Chief Priest of Omkarananda-Kamakshi-Devi Mandir, Shri Suresh Shastriji, had observed, that during the devotional dance-performance on this occasion, suddenly a light, soft rain started and it stopped again during the last Arati, before Prasad-Distribution. It was seen as a sign, that the Divine was pleased and had showered special Blessings. OM.
| | |
| --- | --- |
| | |
| Bhajan and Kirtan for Lord Krishna | Swami Vishveshwarananda welcomes the Devotees |
| | |
| Krishna Dance by Pinky, Prachi and Neha | Kumari Somashekhari with her students |