Krishna Janmashtami Celebration
in Omkarananda Ashram Himalayas, on 14th August 2009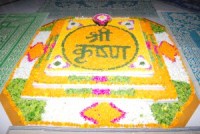 In the evening of 14th August 2009, when the Celebrations for Lord Krishna's birthday started, the whole Omkarananda Ashram area with its Temples was shining and glowing with colourful lights.
A beautiful big Altar for Krishna Gopalji was specially erected outside, at the Yagnashala of Omkarananda-Kamakshi-Devi Mandir, decorated with flowers, leaves and real Deepas.
A most beautiful big flower-Rangoli was artistically designed by the Omkarananda Ashram Priests near the Altar of Shri Krishna Gopal. Small, earthen Deepas, with their shining flames were arranged inside the flower-Rangoli, in the form of Shri Krishna's name.
| | |
| --- | --- |
| | |
| Nicely decorated Krishna-Altar | Special Worship for Lord Krishna |
Shri Swami Vishveshwaranandaji, Shri Swami Satchidanandaji and devotees of the nearby area celebrated this holy occasion with enthusiasm along with all Priests of Omkarananda Ashram Himalayas. Around 7 pm, when the Celebration was in full swing, with Puja, Bhajans and Kirtan in honour of Lord Krishna, heavy rain started. But this did not hinder anybody to continue the joyous worship, which was concluded with a special Arati for Shri Krishna Gopal and a very delicious Prasadam, in form of fresh butter along with Mishri (sugar-crystals), which was served to all.
Arati by Swami Vishveshwarananda

Krishna-Gopalji on the swing