Sacred Krishna Janmashtami Day on 16th August 2006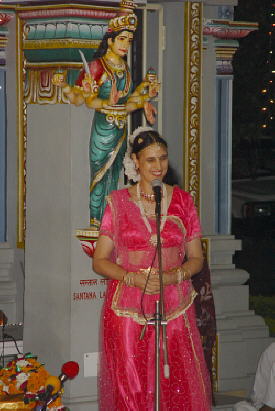 Kumari Somashekhari explained
the meaning of the dances
In the Bhagavad-Gita, it is the all-knowing Lord Krishna who tells Arjuna: "You are Dear to Me."; this statement of affection and truth enabled Arjuna to surrender to the Lord in order to realize the Ultimate Purpose of Life and beyond. The advent of such Divinity in the form of Lord Krishna is celebrated all over India on Krishna Janmashtami Day.
Omkarananda Ashram Himalayas observed this holy occasion in grand style at the Omkarananda Kamakshi Devi temple beginning in the morning of 16th August, 2006. Balaji Abhishek Puja was offered to Lord Krishna by the temple priests; devotional recitals of Vishnu Sahasra Nama Parayan and Arati followed, infusing in all participants a heart-felt love and appreciation for Lord Krishna. Prasad distributed to all in attendance concluded the morning services.
In the evening, words of welcome were extended to all by Swami Vishveshwarananda Maharaj, who felt that Krishna Janmashtami, a special day of the eternal culture of India, is strongly vibrating with the presence of Lord Krishna.
The boundless beauty of the Lord which is so lightful, should be remembered not only today, but for all the time. This Light should become so strong, that it emerges in our heart, and we slowly should sink into this timeless beauty of this eternal Light.
Swamiji further said: "Let us also express our deep thanks to Gurudev Paramahamsa Omkarananda Saraswati, whose blessings, grace and sacrifice are the essence to realize all these glorious works of our Ashram."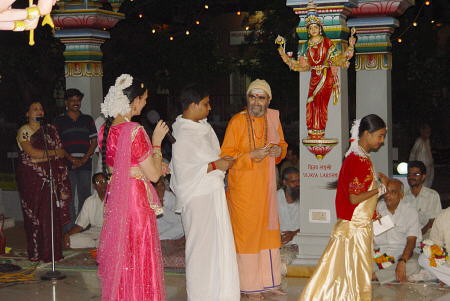 The Chief Guest, Acharya Balkrishnaji, awards the children
for their beautiful performances
The Chief Guest, most revered Shri Balakrishnaji, the Secretary General of Patanjali Yoga Peeth, gave brief accounts of the life and teachings of Lord Krishna, in which he emphasized the phenomenon of creation and the descent of consciousness in various names and forms. The Chief Guest impressed upon the audience the reason for Lord Krishna's Divine Form; he said "the whole purpose of the Krishna Avatar is to make you all realize that you are a part of Him."
The devotional activities continued with the bhakti dance performance by Kumari Somashekhari and her dance students; everyone was appreciative of such magnificent cosmic gifts expressed by the dancers.
Miss Sangeeta Adhikary compared the function most competently.
Krishna Naivedyam and Prasad ended the sacred ceremonies; the divine vibration were lingering long after the event was over.