Krishna-Janmashtami-Celebrations in Omkarananda Ashram Himalayas
on Saturday, 27th August 2005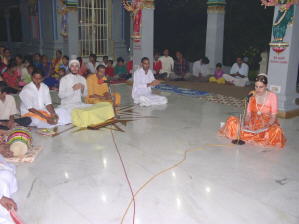 Bhajans by Shri Siddharthaji and
Kumari Somashekhari
This year Krishna-Janmashtami was again celebrated in all our temples, like Omkarananda Radha-Krishna Mandir, Dehradun Road, Rishikesh, Omkarananda Satyanarayana Mandir, Lakshmanjhula, and other places. But in a specially grand way the Celebration was made in our most beautiful Omkarananda-Kamakshi-Devi Mandir, Muni-ki-reti. Within this temple-complex, in the shrine of Venkateshwara-Padmawati, a nicely decorated Jhula with Krishna-Gopalji inside was put in front of the Pranapratishtha-Murtis of Lord Vishnu and Divine Mother Lakshmi (Shri Venkateshwara-Padmawati) and special Pujas were performed there by our Ashram-Pandits. The whole temple-complex was decorated with shining lamps and fragrant flower garlands. In the dark the temple looked beautiful like a dream, or as from another world, a heavenly world.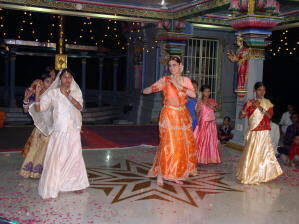 Dance by Kumari Somashekhari and Students
Many devotees and friends of the Ashram had assembled in the night to celebrate this holy event with us. There were Bhajan and Kirtan-recitals in honour of Lord Krishna by our Ashram-Pandits, by Shri Siddharthaji and Kumari Somashekhari. Shri Siddhartha Krishna and our new Ashramite, Shri Ghanshyam Dasji, both very talented Katha-Vachaks, inspired all assembled Devotees with their speeches on Krishna-Janmashtami and its meaning and value for our life.
Afterwards Kumari Somashekhari and her students gave a one hour dance-performance in the Temple-Mandapa, with devotional dances, exclusively dedicated to Lord Krishna.
The audience was carefully listening when Somashekhari explained the essential meanings of every dance.
Kumari Somashekhari in a dance pose


in front of the Omkarananda-
Kamakshi-Devi Mandir.



After the colourful dance-performance the holy function was concluded with a special Arati in front of the Venkateshwara-Padmawati shrine, in which all devotees took part.
Then everybody was requested by Swami Vishveshwaranandaji to enjoy the special Krishna-Janmashtami-Prasadam. Different delicious sweets and fruits were distributed to all devotees.
Swami Ghanshyam Das speaks




on Lord Shri Krishna

Prasad Vitaranam
Among the special guests of this Celebration were former Rotary President, Rajeev Sharma, Dr. Sandhu and other Ashram friends. We also had many guests from our Neighbour Ashram, Yoga Niketan, who also brought with them some foreign devotees. Everybody was happy and grateful to get a glimpse of our beautiful divine Indian culture through this Krishna-Janmashtami-Celebration in Omkarananda Ashram Himalayas, and receive Lord Krishna's blessings.