Guru-Purnima Celebrations
in Omkarananda Ashram Himalayas, on 22nd July 2013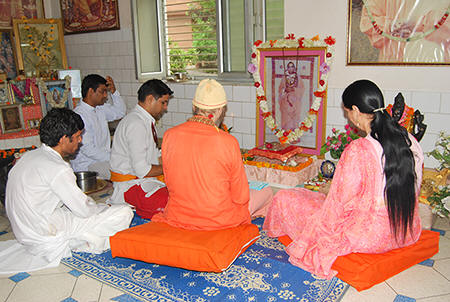 Prayers in adoration of our great Guru Paramahamsa Omkarananda
Saraswati by Swami Vishveshwarananda, Kumari Somashekhari
and the Priests of Omkarananda-Kamakshi-Devi Mandir.
In the lives of Seekers of the Truth the divine Festival of Guru-Purnima is a most important day.
It is celebrated each year on a special Full-Moon, during the time of rainy-season in India.
As the name "Guru-Purnima" says, this special Full-Moon Day is dedicated to the Guru, the Spiritual Guide and Teacher.
During this time all kinds of teachers may be honoured and thanked by devoted students, but above all it is most important to worship the spiritual Teacher, or the Teacher of the Truth, the Sadguru, on this auspicious occasion.
A real spiritual Teacher or Sad­guru is absolutely divine and selfless and an embodiment of immaculate supreme Purity in each respect. Such a real Sadguru we have in Paramahamsa Omkarananda Saraswati, the great Mystic, God-realized Saint, Sage, Philosopher and Writer.
His Divinity Paramahamsa Omkarananda Saraswati is the most important Treasure and greatest Inspiration in the lives of His three direct Sannyasi-Disciples in India, namely the President of Omkarananda Ashram Himalayas, Shri Swami Vishveshwarananda Saraswati, who was appointed as His Successor by Swami Omkarananda, Guru-Bhakti-Ratna Kumari Somashekhari, the General Secretary of Omkarananda Ashram Himalayas, who is also an Indian Classical Dancer and Musician, and Shri Swami Satchidananda Saraswati, the Treasurer of Omkarananda Ashram Himalayas.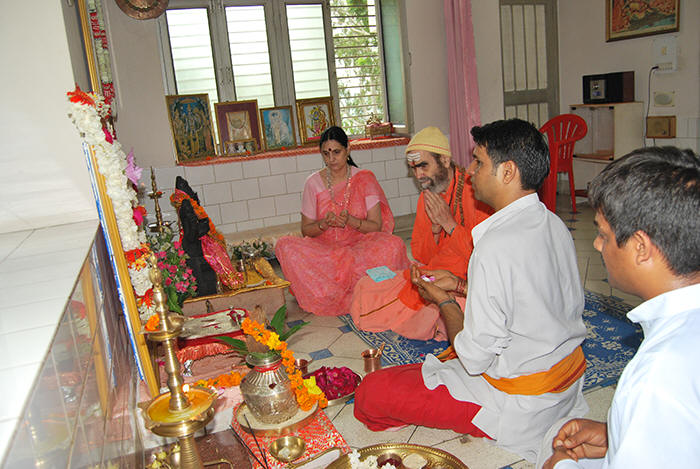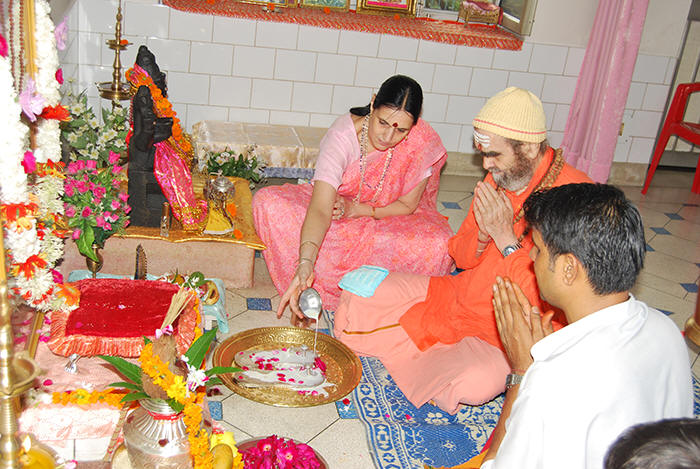 Kumari Somashekhari offering milk to the holy Padukas of Gurudev.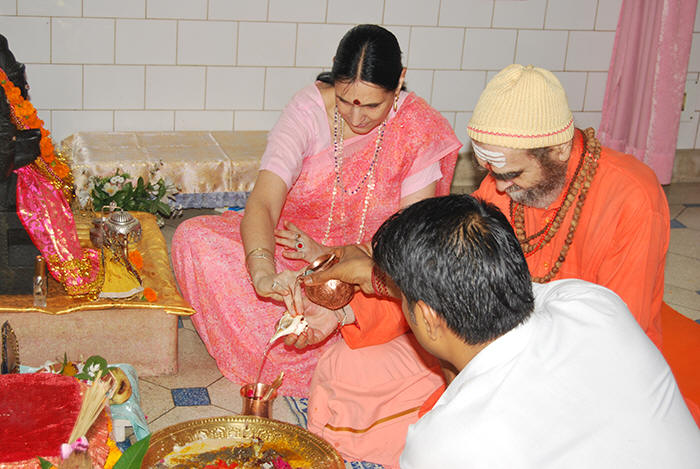 Ganges water is poured through the Shankha, held by
Swami Vishveshwarananda and Somashekhari, to the Padukas.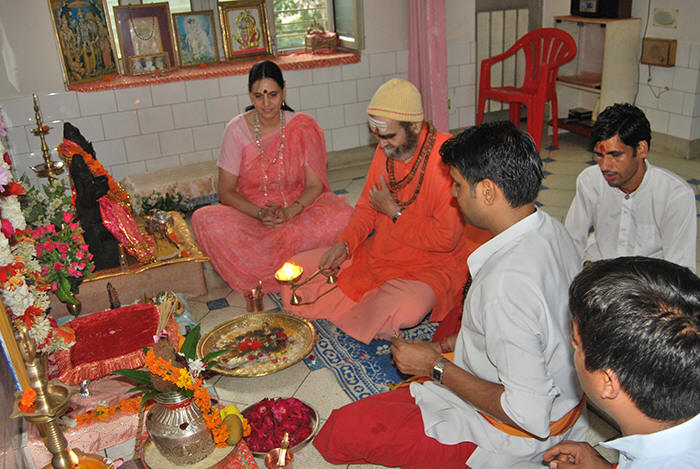 Arati offered to the Padukas by Swami Vishveshwarananda.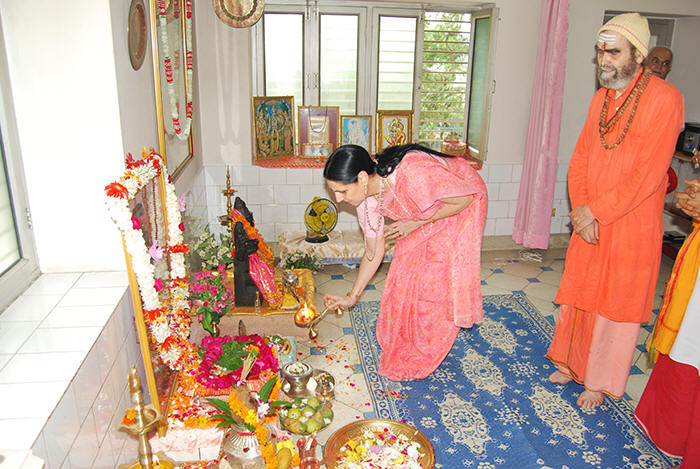 Kumari Somashekhari offers Arati to Gurudev Swami Omkarananda.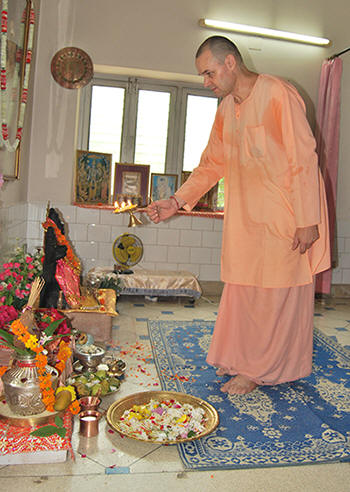 Arati offering to Gurudev by Swami Satchidananda.
In the morning of 22nd July 2013 they attended a special Gurupuja for Swami Omkarananda in the Sarvadevata Pranapratishtha Shrine, inside Omkarananda-Shanta-Durga Mandir, the Headquarters of Omkarananda Ashram Himalayas.
Photos of Paramahamsa Omkarananda Saraswati had been decorated with wonderful fragrant flower malas.
An extensive Gurupuja was performed by Swami Vishveshwarananda, Kumari Somashekhari and Swami Satchidananda with the assistance of Suresh Shastriji, Sanjay Shastriji, Mukesh Panditji and other Priests of Omkarananda Ashram Himalayas.
Abhisheka was done for Swami Omkarananda's silver Padukas and then fragrant flowers were offered to Gurudev during Recitation of "Shri Sadguru-Omkarananda-Ashtottara-Shata-Namavalih", the 108 Holy Names of Paramahamsa Omkarananda Saraswati.
The entire atmosphere was extremely pious and one could feel the deep devotion towards Gurudev Swami Omkarananda in the hearts of all the participants of this worship.
This wonderful Puja was concluded by Omkarananda Arati and Prasad distribution.
In the afternoon extremely strong Monsoon rains started lashing down on the area of the Headquarters of Omkarananda Ashram Himalayas, in Muni-ki-Reti, which lasted for hours and caused a lot of inconvenience to everybody. But it could not prevent all the Ashramites to continue with preparations for the evening Celebrations of Guru-Purnima in Omkarananda-Kamakshi-Devi Mandir.
In the evening time the Temple-Hall of Omkarananda-Kamakshi-Devi Mandir was ready with nice flower-decorations and many shining Deepas, and all Ashramites, Priests and Devotees of Omkarananda Ashram Himalayas assembled there. Even many Devotees from other Ashrams, like Dayananda Ashram, Sivananda Ashram, etc., had come, in spite of the heavy rains.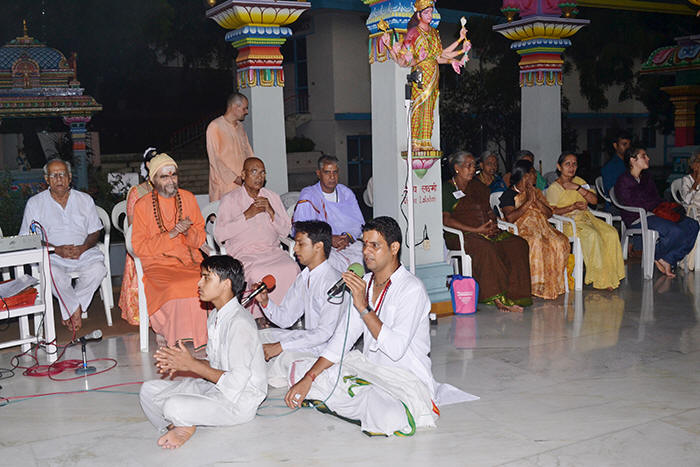 Chanting of Shlokas by the Priests in Omkarananda-Kamakshi-Devi Mandir.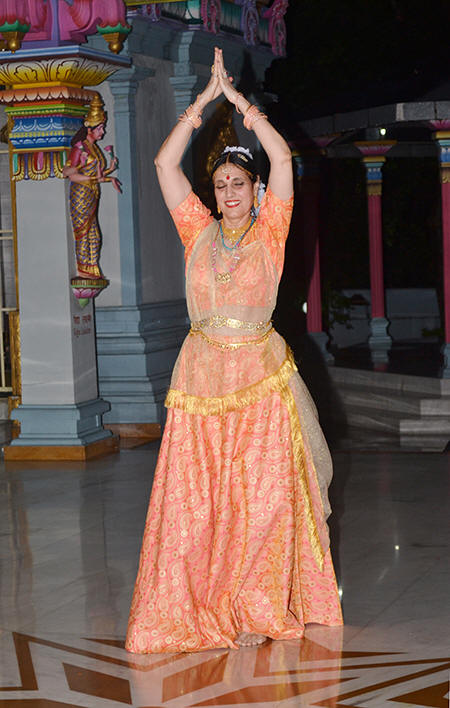 Finest devotional Bharatanatyam Dance to honour
Gurudev Swami Omkarananda by Kumari Somashekhari.
After the evening Arati Guru-Bhakti-Ratna Kumari Somashekhari performed several devotional Bharatanatyam Temple-Dances to express her deepest Adorations and Gratitude to her Sadgurudev Paramahamsa Omkarananda Saraswati.
The programme was announced by Somashekhari's student Neha, who had her first appearance as a Master of Ceremony on this auspicious occasion.
After the devotional dances of Soma were completed, Shri Swami Vishveshwaranandaji blessed all devotees and guests with his wonderful and inspiring speech on Guru-Purnima and the spiritual Guru.
Swamiji emphasized, how lucky one is, if one finds a real spiritual God-realized Guru and how important it is to be absolutely obedient to Him!
To obtain much Grace from the Sadguru and make huge progress on the spiritual path, one should be ready to renounce all worldly attachments.
Swami Vishveshwaranandaji explained in this regard, that physical parents, even if they are very loving, are not always in a position to protect their children from all kinds of dangers and misery, but a real spiritual Guru can do wonders, if it is necessary and in the will of the Divine, to protect His true Devotees.
Swamiji thanked all, who actively participated in the Guru-Purnima Celebrations, and he wished abundant divine Blessings of Sadgurudev Paramahamsa Omkarananda Saraswati for each and every one.
After Swami Vishveshwaranandaji's divine words of Blessings, Devotees from various Ashrams surrounded him and deeply thanked him for his inspiring speech and for arranging such a wonderful programme on the occasion of Guru-Purnima Celebrations in Omkarananda Ashram Himalayas.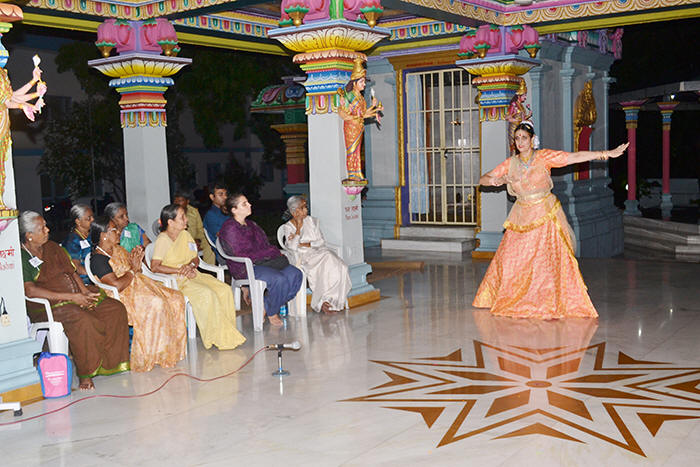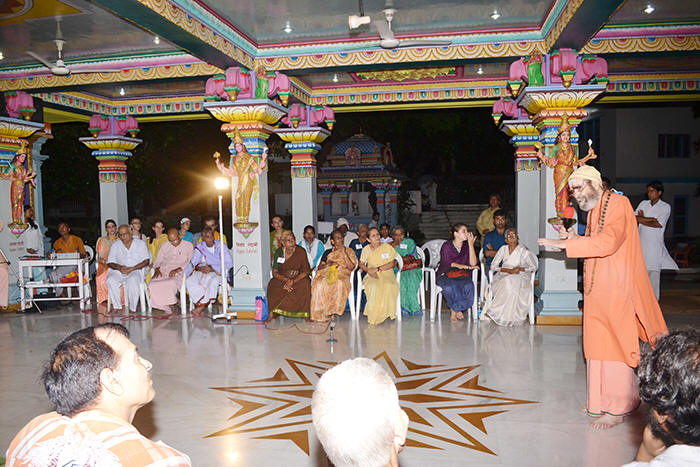 Swami Vishveshwarananda highlights the importance of being guided by a Guru.
He also offers thanks to his Guru Swami Omkarananda for all the Grace, He showers on all of us.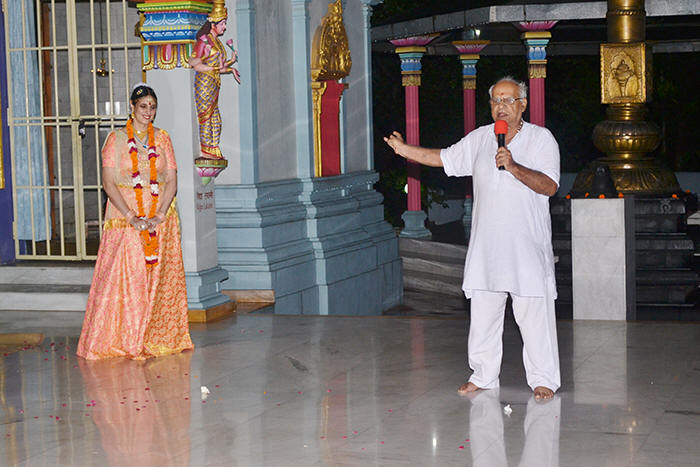 Shri Malhotraji spontaneously takes the mike and praises Somashekhari for her
highest devotion to Swami Omkarananda, expressed by her dance performances.