Gurupurnima Celebration in Omkarananda Ashram Himalayas,
Muni-ki-Reti, Rishikesh, on 3rd July 2012
The Gurupurnima Celebrations in Omkarananda Ashram Himalayas, on 3rd July 2012, coincided with the first Monsoon-showers in the early morning.
The direct Sannyasi Disciples of Paramahamsa Omkarananda Saraswati, Shri Swami Vishveshwarananda Saraswati, Shri Swami Satchidananda Saraswati and Kumari Somashekhari worshipped and adored their Sadgurudev in the Headquarters of Omkarananda Ashram Himalayas, in Omkarananda Shanta-Durga Mandir, with utmost devotion.
Guru Puja by the Priests of Omkarananda-


Kamakshi-Devi Temple with Swami




Vishveshwarananda and Kumari Somashekhari.

Kumari Somashekhari offers her special prayers to Gurudev.


Holy milk is offered to the Padukas of




Paramahamsa Omkarananda Saraswati.

Kumari Somashekhari is offering curd to the holy Padukas.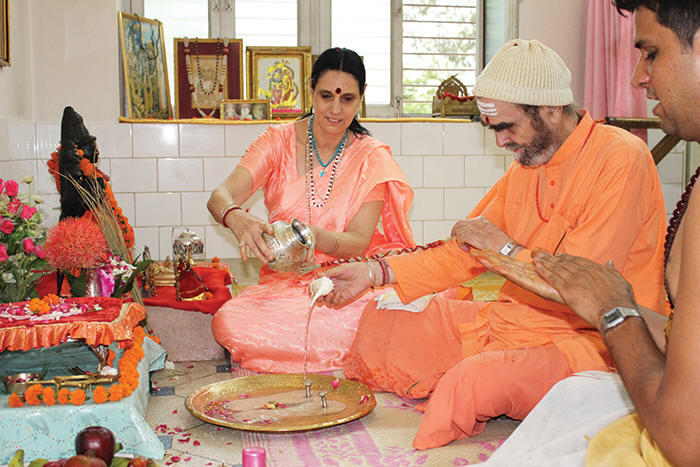 Somashekhari offers Ganga water, which flows through the Shankha,
being held by Swami Vishveshwarananda, to Gurudev's Padukas.
With the assistance of Omkarananda Ashram Priests, like Suresh Panditji, Sanjay Panditji, Mukesh Panditji and others, different elaborate Pujas and Paduka Abhisheka for Gurudev Paramahamsa Omkarananda Saraswati were performed along with the recitation of Prayers and mystical Syllables.
This special worship concluded with Omkarananda Arati and Prasad Distribution.
| | |
| --- | --- |
| | |
| Arati offered to Gurudev by Swami Vishveshwarananda. | Swami Satchidananda offers the Arati to Gurudev. |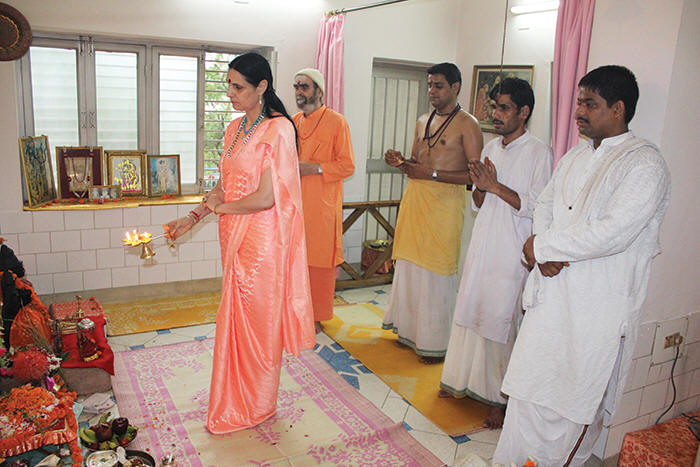 Kumari Somashekhari is offering the Arati to Swami Omkarananda.
In the evening a special divine Temple-Dance was performed in Honour of Gurudev Paramahamsa Omkarananda Saraswati by Guru-Bhakti-Ratna Kumari Somashekhari.
This holy function took place in Omkarananda-Kamakshi-Devi Mandir, where Ashram Devotees and Guests from several parts of India had assembled.
After special Arati in the Shrine of Paramahamsa Omkarananda Saraswati by the Priests, another Arati was conducted for Omkarananda-Kamakshi-Devi and then Guru-Bhakti-Ratna Kumari Somashekhari started her Temple-Dance-Performance with "Pushpanjali" and "Ganesha Kautuvam", a typical Bharatanatyam Temple-Dance item. Afterwards Somashekhari performed three more Temple-Dances in honour of Gurudev Swami Omkarananda, concluding with "Omkarananda-Arati-Dance".
Bharatanatyam Temple Dance by Kumari Somashekhari in the Mandapa of Omkarananda-Kamakshi-Devi Temple.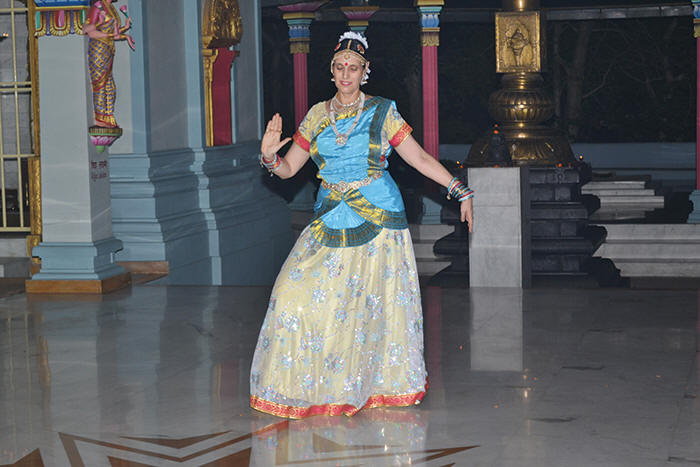 Kumari Somashekhari while performing a Devi Dance.
The shining light of this Arati was offered as divine Blessings to each and everybody in the Temple.
Shri Swami Vishveshwarananda Saraswati, President Omkarananda Ashram, addressed all devotees, who had assembled in the Temple for this occasion. He emphasized very much on the immense importance of an enlightened Guru in one's life. He beautifully said: "Guru is the Remover of the Darkness of Ignorance. Guru is Self-Realization in Action…"
Swami Vishveshwarananda further said, that even if an enlightened Guru leaves the physical body, He is still present everywhere, right now and here, and He can guide His earnest and sincere Disciples and Devotees, protect them and work wonders through them for the welfare of mankind.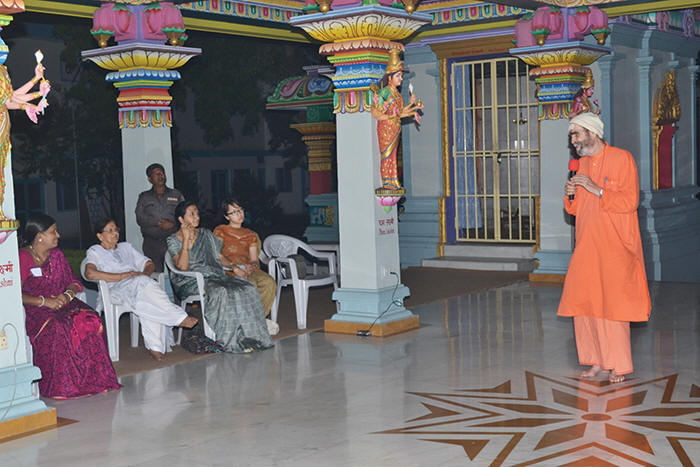 Swami Vishveshwarananda speaks to the public of the importance of Guru Purnima.
Swami Vishveshwarananda, in his speech, expressed again and again his unending Gratitude to Gurudev Paramahamsa Omkarananda Saraswati, the great God-Realized Saint, Mystic, Sage, Philosopher and Writer, Who is the greatest Inspiration and Divine Wealth in the lives of His Disciples and Devotees and Who continues to inspire mankind through His immortal works of selfless Divine Love and Wisdom.
For the wonderful dance performance a devotee is offering




Kumari Somashekhari a flower mala.

Swami Prajnanandaji, Omkarananda Ashram, is thanking
Swami Vishveshwarananda for the nice evening.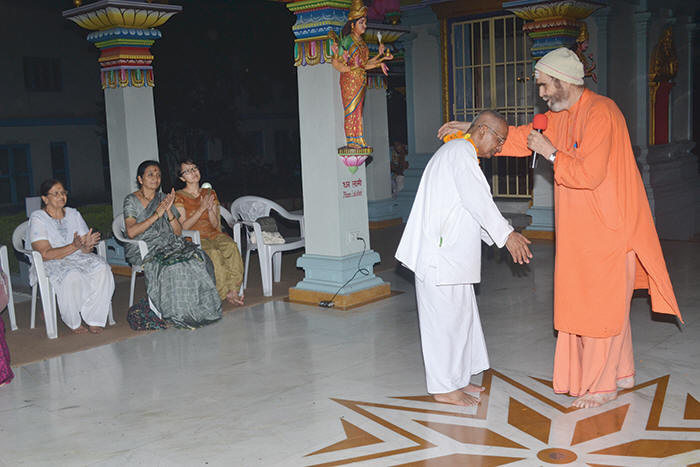 Swami Vishveshwarananda speaks about Swami Narasimhuluji and honours him with a beautiful mala.
After his wonderful and deeply devotional speech about Gurudev, Shri Swami Vishveshwarananda honoured several devotees with flower malas.
Then he requested all to enjoy special Prasadam, which had been prepared by the Priests.
Many devotees took blessings from Swami Vishveshwarananda and thanked him for his highly inspiring speech.