As every year, also this year Guru-Purnima was celebrated with deep devotion in Omkarananda Ashram Himalayas.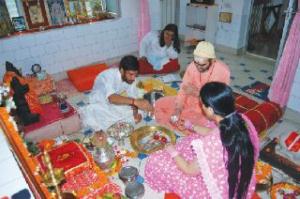 In the morning Guru-Puja for Sadgurudev H.D. Paramahamsa Omkarananda Saraswati took place in the Pranapratishtha Shrine of Omkarananda Shanta-Durga Mandir. With the help of the Pandits, under the guidance of Chief Priest Suresh Panditji, Shri Swami Vishveshwarananda, Shri Swami Satchidananda and Kumari Somashekhari performed Puja and Paduka-Abhisheka for their beloved Sadgurudev Shri Swami Omkarananda, along with recitations of sacred Mantras and Hymns.
The holy ceremony was concluded with Omkarananda-Arati, Pushpanjali and Prasadam.
In the evening a devotional Dance-Program took place in Omkarananda-Kamakshi-Devi Mandir.
The Temple had been nicely decorated by the Ashram Priests with flower-rangolis and deepas.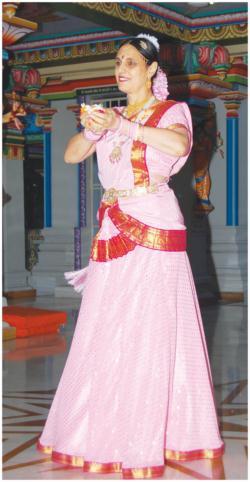 Along with her students Neha, Pinky and Prachi, Kumari Somashekhari performed several devotional dance-items in honour of Gurudev Paramahamsa Omkarananda Saraswati, and as a sign of her Gratitude towards Him.
Though nobody had been formally invited, many devotees, coming from the local area and also other parts of India, like Rajasthan, Andhra Pradesh and Tamil Nadu, joined to witness this event.
Seven Dance-items were performed, among which three dances were totally new and performed for the first time on this auspicious occasion.
The Dances left a great impression on the audience. The hard and artistic work of Somaji was highly appreciated.
After the conclusion of this Temple-Dance-Performance, the President of Omkarananda Ashram Himalayas, Shri Swami Vishveshwaranandaji, inspired all devotees, sitting in the Temple-Hall, with words of Divine Wisdom, glorifying the Greatness and Importance of the Sadguru. He emphasized, that having an enlightened Master as a Guru is the greatest treasure in life. Without a real Guru, even if one would possess everything in this world, it would be only a small and perishing joy, being accompanied by pain. Without the Grace of the Guru, nothing is valuable and lasting, whereas if one has the Grace of the Sadguru, one gains Supreme Fulfilment. Further Swami Vishveshwaranandaji said, that the GURU or Master is the link to GOD, who makes our approach to the Divine and God-Experience easy, therefore in India the GURU is worshipped first. After his wonderful speech was concluded many devotees spontaneously approached Swamiji with great joy and deep devotion and requested him for Blessings.
Shri Swami Narasimhuluji, Trustee of Omkarananda Saraswati Charitable Trust, also came forward spontaneously and extolled the Greatness of Gurudev Shri Swami Omkarananda and his disciples in India, specially Shri Swami Vishveshwarananda. Narasimhuluji honoured Swami Vishveshwarananda with a beautiful flower-garland.
Then everybody was invited for a delicious Prasadam, prepared by the Temple-Priests.
Swami Vishveshwarananda speaks




about the importance of Guru

Devotees take the Blessings of




Swami Vishveshwarananda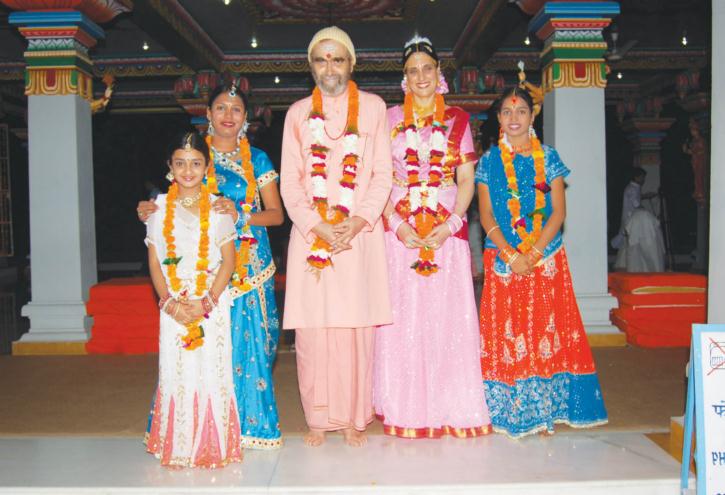 OM SHRI SADGURUDEV PARAMAHAMSA OMKARANANDAJI KI JAY !! OM