Diwali Celebrations in Omkarananda Ashram Himalayas,
on 3rd November 2013
At noon time, on 2nd November 2013, on "small Diwali", all employees of the Ashram were given Diwali wishes and blessings along with sweet packets and other gifts by Shri Swami Vishveshwarananda, President Omkarananda Ashram Himalayas, Kumari Somashekhari, General Secretary, Swami Satchidananda, Treasurer and Shri G. Sukumar, Trustee.
The employees were extremely happy and grateful and thanked Swami Vishveshwaranandaji and all for the wonderful blessings, and then they left to their homes in a very joyous mood.
As every year, Kumari Somashekhari strongly requested all inmates and employees of Omkarananda Ashram Himalayas, not to use any fire-crackers during Diwali, since this would disturb the peaceful and divine atmosphere of this festival, besides being very harmful and annoying for the environment and all living beings.
On 3rd November 2013, the main day of Diwali, all the Priests of Omkarananda Ashram Himalayas were busy the whole day to prepare many, many small earthen oil-deepas, which looked simple, but lovely.
They also took great efforts to make beautiful geometrical designs and also shapes of Lord Ganesha, Kalashas, Deepas, etc., for which they exclusively used only fresh flowers and flowers petals and leaves from the jungle and no harmful chemical powders.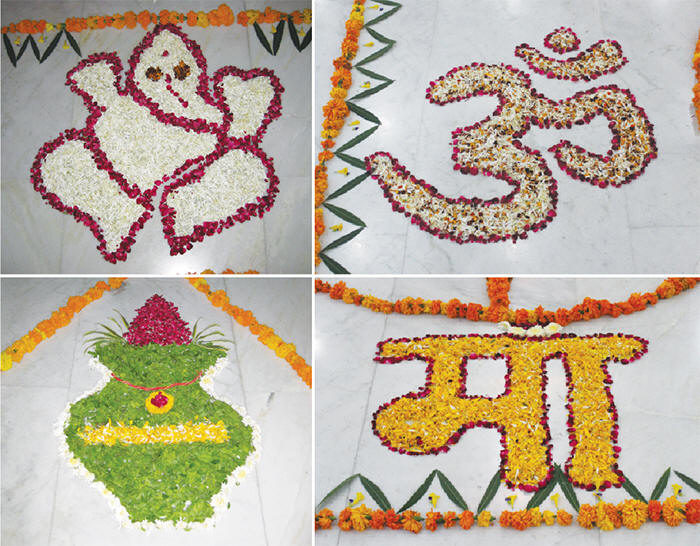 Divine flower designs by Priests of Omkarananda-Kamakshi-Devi Mandir.
These nice and appealing flower-rangolis were made in Omkarananda-Kamakshi-Devi Mandir, Omkarananda-Hanuman Mandir, Omkara-Mahaganapati Mandir, Shri Mahakala-Bhairava Mandir, Omkarananda Shanta-Durga Mandir and other places.
In the night all the Priests and Ashramites lighted many oil-deepas in and around all these Temples.
It was very inspiring to see the whole area of Omkarananda Ashram Himalayas Headquarters glowing with all these beautiful lights, reminding spiritual Seekers of the Divine Light, residing in their hearts.
This Divine Light, radiating infinite Peace, Divine Love, Joy and Wisdom, can be consciously experienced and then expressed for the benefit of whole mankind, by the Grace of the Sadguru and all Divinities.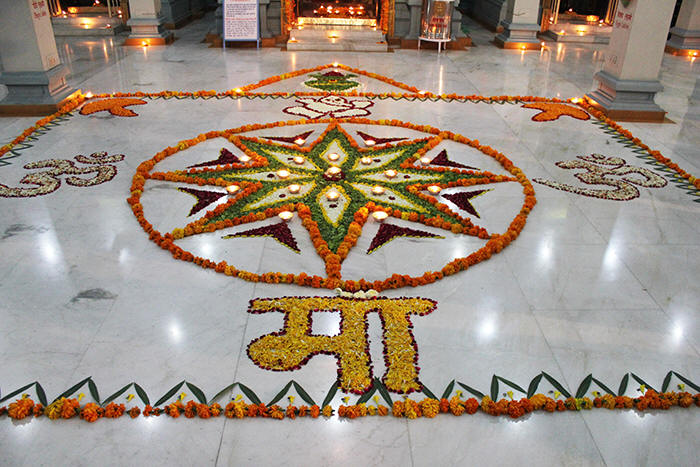 Flower-rangoli and deepas in Omkarananda-Kamakshi-Devi Mandir during the holy night of Diwali.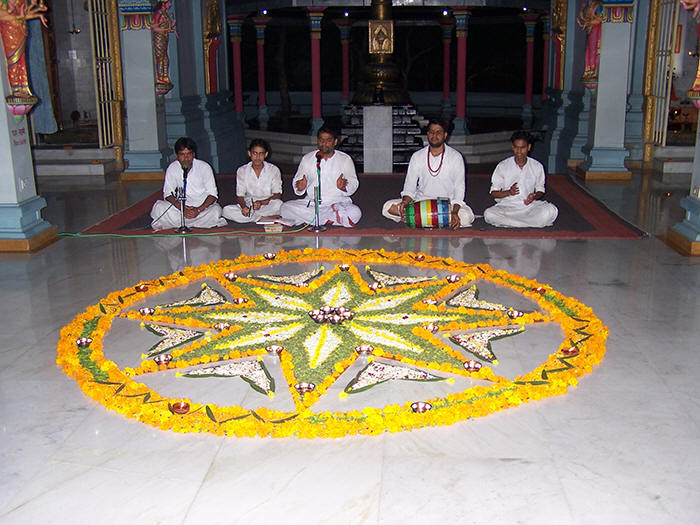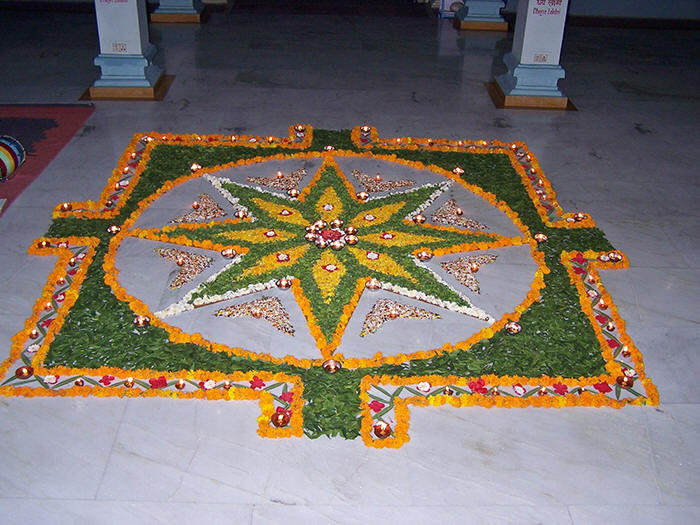 OM
SHRI SADGURUDEV
PARAMAHAMSA OMKARANANDAJI
KI JAY
OM