Diwali Celebrations in Omkarananda Ashram Himalayas
on 13th November 2012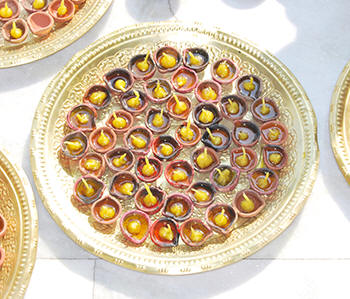 Oil Deepas are ready for the decoration.
Already in the afternoon of the 12th November 2012 everybody in Omkarananda Ashram Himalayas was in the festive mood of Diwali.
Since most of the Employees of the Ashram, except the Pandits of the Temple and the Kitchen, are having Holidays on Diwali, they all came to wish "Happy Diwali" on this day and received Diwali Gifts and Blessings from the holy hands of Shri Swami Vishveshwarananda Saraswati, President of Omkar­ananda Ashram and His team.
On the next day, on 13th November 2012, the Main Day of Diwali, the Temple Priests were busy in decorating the different Omkarananda Ashram Temples with lovely Mandalas, which were purely made out of natural leaves and real flower-petals. Not a single environment harming chemically coloured powder was used.
The Priests also prepared many many small earthen Oil-Deepas, which were burning after sunset, lighting up the whole surroundings of Omkarananda Ashram Himalayas, the Shrines of the Temples and the Temple Mandapas, the Entrances of the Temple-buildings, etc.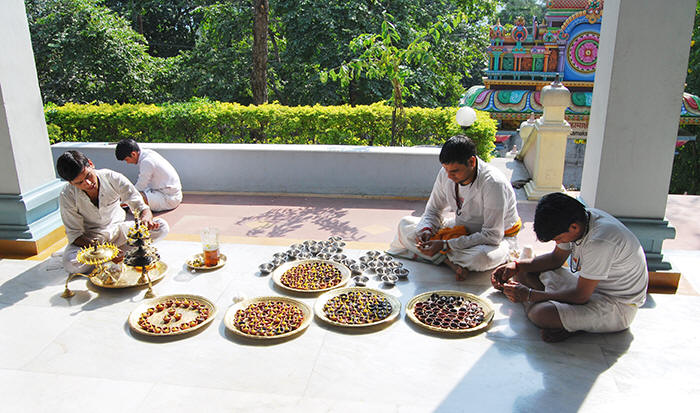 Diwali Preparations by Priests of Omkarananda Ashram Himalayas.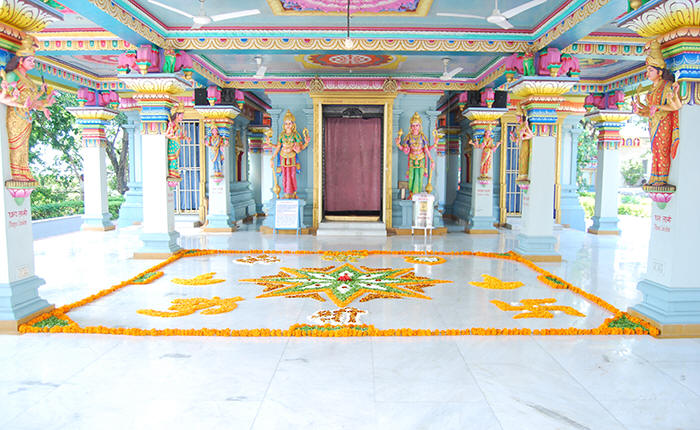 The Mandapa of Omkarananda-Kamakshi-Devi Mandir is beautifully decorated
with fresh flower petals and leaves for the evening celebrations of Diwali.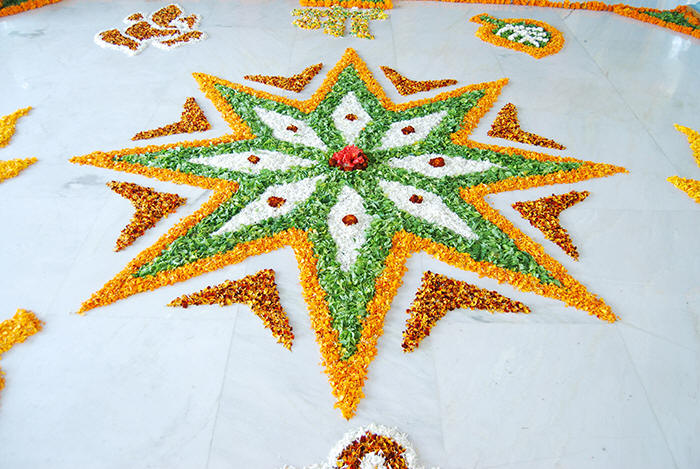 A wonderful special Maha-Lakshmi Puja was conducted inside the Omkarananda-Kamakshi-Devi Mandir.
The whole environment of Omkarananda Ashram Himalayas during the Diwali Celebrations was as usual divine, peaceful and serene.
Nobody was using loud crackers and therefore, at least in Omkarananda Ashram Himalayas, harmful noise- and air-pollution and resulting injuries and accidents were totally avoided and Diwali was celebrated in the true traditional divine and heavenly way - which was definitely very much liked and appreciated by all Divinities.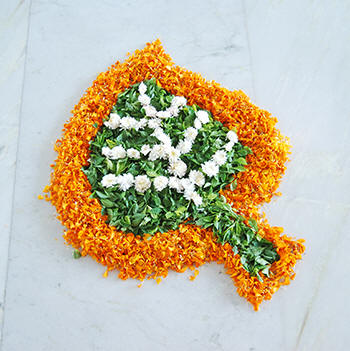 The Mandapa of Omkarananda-Kamakshi-Devi Mandir with shining Deepas during the holy night of Diwali.