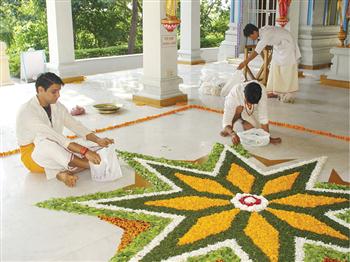 Priests are preparing beautiful flower-rangolis
The colourful Light Festival was celebrated in Omkarananda Shanta-Durga Mandir on the 5th November 2010. The whole house was beautifully decorated with small Deepas and a big Rangoli was made in the courtyard in front of the Yajna-Shala and Omkarananda Shanta-Durga Maa.
Also the Mahakala-Bhairava Temple and Omkarananda-Kamakshi-Devi Mandir were beautified with flower-Rangolis and a lot of Deepas.
Special care had been taken that no crackers were used in the Omkarananda Ashram area to avoid any noise pollution as well as any air pollution. It was a simple, peaceful but nice evening with special Pujas and Aratis to honour the Light Festival.
Deepas are shining in Omkarananda-Kamakshi-Devi Mandir

Deepas and flowers in form of the mystical Syllable 'OM'


in front of Mahakala-Bhairava Mandir