Devotional Dance Performance in Omkarananda-Kamakshi-Devi Mandir,
on 26th September 2006
Navaratri would not be the same if the highly devotional and purely divine dances of Kumari Somashekhari and her disciples would not have taken place. Truly, the evening was sparkling with tremendous vibrations, when everybody appeared in front of the most beautifully decorated Omkarananda-Kamakshi-Devi. We could read from the faces of the children that they were filled with strength and devotion and wanted to give an excellent performance in front of the Deity. Kumari Somashekhari, the Guruji and teacher and a highly trained Bharatanatyam dancer, appeared with a glittering Lehenga*, whose every movement made it very shining and sparkling. Soma and her children paid their tribute through dance in such a smooth way that the audience was astounded to see their performance. Most of the people appreciated that the children could go fully synchronised in line with the actions of Somaji.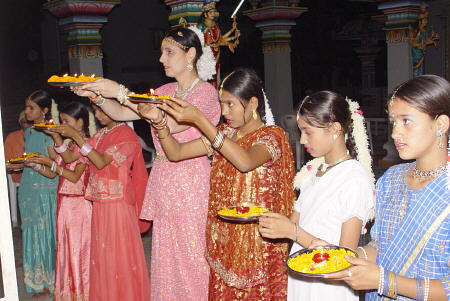 Offering of flowers and light to Omkarananda-Kamakshi-Devi
The items which she and her students performed were exclusively devotional dances through which they worshipped the Divine Mother, Her infinite Beauty, infinite Love and infinite Power. They also performed two Arati-dances for the Devi in which they worshipped Omkarananda-Kamakshi-Devi with flowers and many shining Deepas.
Though this function was meant as a pure dedication to the Divine Mother Omkarananda-Kamakshi-Devi, and nobody was formally invited, surprisingly a great number of devotees had assembled to enjoy the colourful dances.
Shri Swami Narasimhuluji awards the dance-students
Swami Vishveshwarananda guided the people through the function. In the end H.H. Shri Swami Narasimhuluji Maharaj - being touched by these excellent children - offered gifts to all of them. Swami Vishveshwarananda appreciated the tireless and hard work, which Somaji has done, and he focused specially on the point, that her dances were nothing but a flower to the holy feet of Gurudev Paramahamsa Omkarananda and a way to attain spiritual heights.
--------------------
* Beautiful, long, traditional Indian skirt, worn for special celebrations