Cultural Evening on Ram Navami in Omkarananda Ashram Himalayas,
Muni-ki-reti on 6th April 2006
As every year, this year too, Omkarananda Ashram Himalayas has celebrated Navaratri in a grand way. Omkarananda-Kamakshi-Devi Mandir was nicely decorated with beautiful flowers and all kinds of lights. The evening of Ram Navami (6th April 2006) was fully dedicated to the art of Dance and Bhajans to glorify the Deities.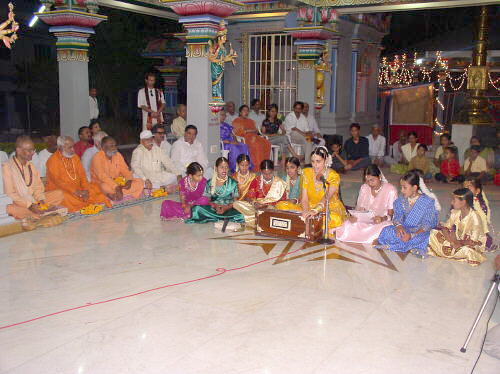 Kumari Somashekhari and her students singing Bhajans
Before the function started, a powerful Yajna took place which was followed by Arati. Later on, in the Maha-Mandapa of the Temple, the daily Arati, prayers and worship were performed. After that the students of Kumari Somashekhari, in beautiful costumes, sang Bhajans under the guidance of Kumari Somashekhari as worship to Omkarananda-Kamakshi-Devi. This was followed by various dances. Every dance was explained by Kumari Somashekhari in pure Hindi as well as in English for all those non-Hindi speaking guests. The temple was packed full with the audience. There was a sparkling atmosphere, especially when Kumari Somashekhari herself performed the dances in front of Omkarananda-Kamakshi-Devi.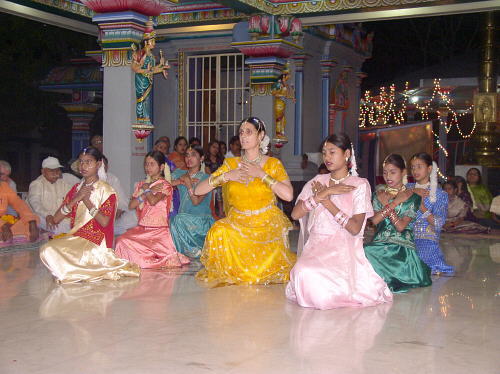 Kumari Somashekhari and her students performing Devi-Dances.
All important guests were welcomed with a flower garland. Among the prominent persons were Swamini Vidyaprakashananda, monastic disciple of Gurudev Paramahamsa Omkarananda Saraswati, who actively took part in establishing this beautiful temple, Shri Varshney, Shri I.D. Joshi, Prof. Rajwar, Shri Singhal, Shri Anil Mehrotra and Shri Kamal Narayan Mishra. In the end Shri Kamal Narayan Mishra, in a firing speech, addressed the public.
Kumari Somashekhari during a Solo Dance

Kumari Somashekhari and her students perform a Devi-Arati Dance with Deepas




and flowers in front of Divine Mother Shri Omkarananda-Kamakshi-Devi.
On this occasion, Kumari Somashekhari also introduced a group of her students, who henceforth will form the Omkarananda Bhajan Mandali. The release of a CD will take place soon. A special issue of the Ashram's quarterly magazine 'Vidya Prabodhini' about the Omkarananda Mahotsava celebrations, was offered to everybody who attended this function. The function concluded with Prasad Distribution.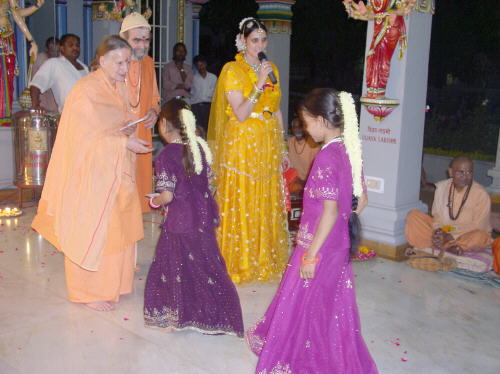 After the dance-performance the students of Kumari Somashekhari
received gifts from Swamini Vidyaprakashananda.
Swami Vishveshwarananda, the President of the Ashram, himself guided and addressed the function as "Master of Ceremonies". Among the Saints, Swami Rakeshananda, Swami Satchidananda, Narasimhulu Swami and Veeraraghavulu Swami attended the function.
The audience was thrilled by the excellent performance of Kumari Somashekhari and her students and everybody appreciated that she has taken much pain in teaching this beautiful art to the children, who are coming from different walks of life.