Conclusion of Omkarananda Mahotsava
with Hawana, Bhajans, Sadhu Bhandara
on 4th January 2007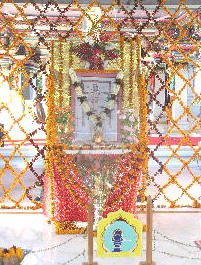 The beautifully decorated Altar of Gurudev in the Yagnashala of Omkarananda-Kamakshi-Devi Mandir
The conclusion of the Omkarananda Mahotsava Celebrations, the 11 day long Festival, took place on 4th January 2007, which marks the day of the Mahasamadhi of our Gurudev Paramahamsa Shri Swami Omkarananda. As every year, this day is specially meant to invite the Sadhus for spiritual talks, for Bhajan-Kirtan and finally for Bhandara.
In the morning special Pujas for Gurudev and a big Yajna were conducted by our Priests. Many devotees attended. Also many important and leading Sadhus from big Ashrams joined this function.
When more and more Sadhus and Sannyasis arrived, Bhajans were sung by different devotees. Some of the prominent Sadhus expressed in their speeches their adorations for Swami Omkarananda and his Ashram with its manifold institutions.
The whole programme was monitored by Shri Siddhartha Krishna and special thanks for the arrival of the Sadhus and Mahatmas were expressed by the President of Omkarananda Ashram Himalayas, Swami Vishveshwarananda. Afterwards all Sadhus were invited for Bhandara.
All the workers of the Ashram had started their work already in the middle of the night before in order to make a very good preparation for a wonderful Prasadam for the special Sadhus who came to conclude this function. In the end a Dakshina was given by Swami Satchidananda to every Sadhu.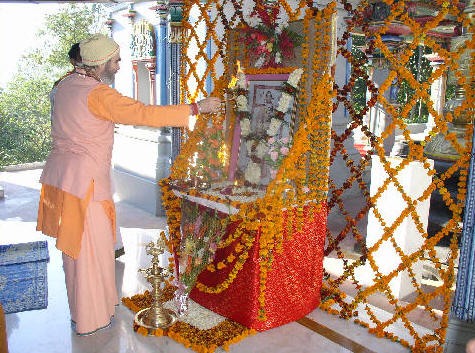 Arati for Gurudev Paramahamsa Omkarananda Saraswati
by the President of the Ashram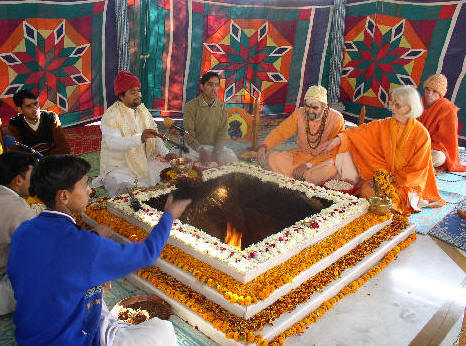 In the morning a special Hawana for Gurudev was performed
During Omkarananda Mahotsava our temple-priests made almost daily different
beautiful flower-Rangolis (Mandalas) in front of Gurudev Swami Omkarananda's
shrine and also in front of the shrine of Omkarananda-Kamakshi-Devi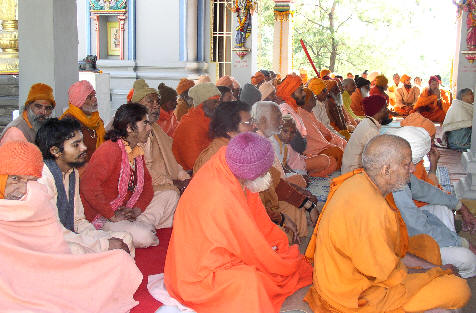 Omkarananda-Kamakshi-Devi Mandir was fully packed with Sadhus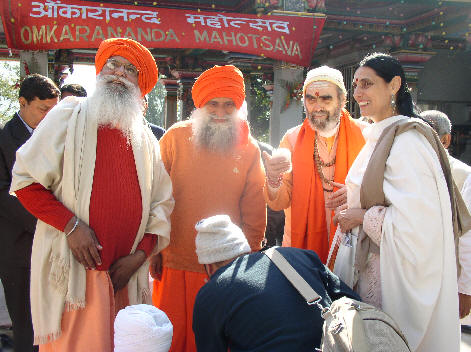 Two great Saints of Nirmal-Akhara, Mahant Shri Jyod Singhji (left)
and Mahant Shri Ram Singhji, who took part in the function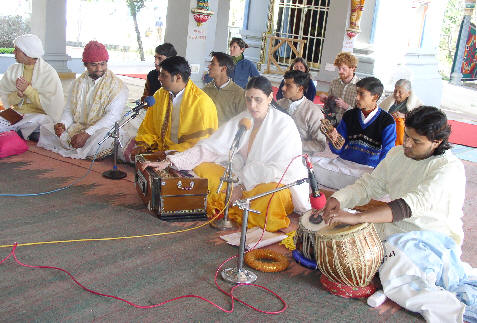 Bhajans in honour of Gurudev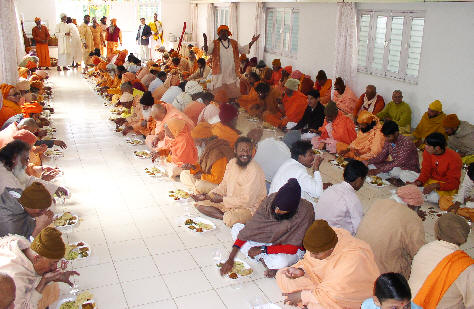 Hundreds of Sadhus enjoyed Bhandara in honour of
Gurudev Paramahamsa Omkarananda Saraswati