Brahma-Mahotsava of Shri Omkarananda Kamakshi-Devi Mandir
on 31st March and 1st April 2007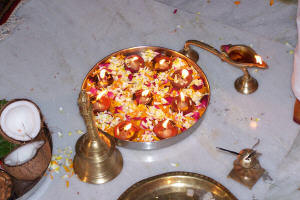 The exquisite Shri-Omkarananda-Kamakshi-Devi Mandir of Omkarananda Ashram Himalayas, Muni-ki-reti, celebrated its third anniversary "Brahma-Mahotsava" on 31st March and 1st April 2007, elaborately with full dignity and colour.
Our Chief Priest, Pt. Suresh Shastriji, Pt. Sanjay Shastriji and other priests of our Temple conducted this holy ceremony meticulously. Many devotees and invitees were present on both the days to witness this religious function at the Temple premises.
31st March 2007: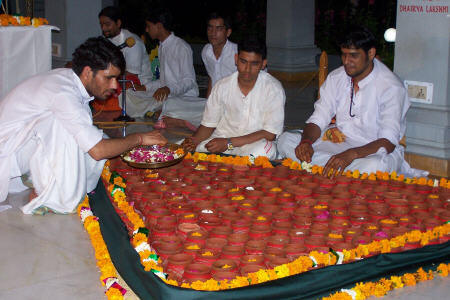 The auspicious rituals began in the morning of 31st March 2007 at 7 a.m. with 'Ganapati Kalasha Sthapana' in which the holy Kalasha was installed with chanting of hymns. It was followed by 'Ganapati Avahana Puja' where the Deity was invoked to bless the ceremony, followed by Ganapati Homa.

"Sahasra-Kalasha-Sthapanam"
In the evening, the ceremony started at 7.30 p.m. with Ganapati Puja and Sankalpa. 1000 holy Kalashas, which had been arranged during the day, were now dedicated to Shri-Omkarananda-Kamakshi-Devi with 'Sahasra-Kalasha-Sthapana' and special Kalashas were installed for all the Deities, Shri-Meenakshi, Shri-Chamundi, etc. of the temple. Navaavarana Archana was conducted by the priests followed by Arati.
1st April 2007:
The second day's ceremonies began at 7.00 a.m. with Swami Vishveshwaranandaji and others performing 'Yajnas' dedicated to all the Deities of the Temple. A special 'Lalita-Sahasra-Namavali-Yajna' was also conducted on this occasion. The Yajnas continued up to 10 a.m. in the morning.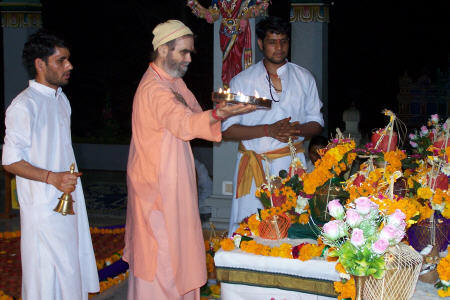 Swami Vishveshwarananda performing Arati
Then the Kalashas of all Deities were carried around the entire temple amidst chanting of holy Mantras. 'All-Deities – Abhishekam' was conducted by the priests and was followed with 'Sahasra-Kalasha-Mahaabhishekam' of Shri-Omkarananda-Kamakshi-Devi. At the end, the temple priests – Pt. Suresh Joshi, Pt. Sanjay Shastri and other temple priests – performed Arati and Bhog ceremony which ended at 1.30 p.m. Prasadam was distributed to all the devotees present.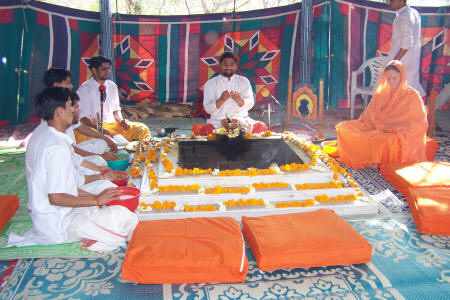 "Lalita-Sahasra-Namavali-Yajna"
The concluding ceremony of this holy Mahotsava commenced at 8.00 p.m. in the evening with Shri Omkarananda-Kamakshi-Navaavarana Puja and Arati by the priests which continued till 10.00 p.m. in the night.