Bhajan Evening by Omkarananda Bhajan Mandali,
on 28th September 2006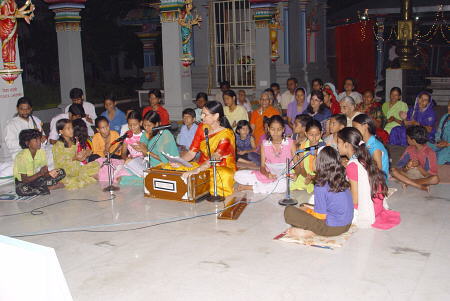 Navaratri this time brought even more surprises. After the holy prayers the audience could watch the start of new items by the "Omkarananda Bhajan Mandali", initiated and established by Kumari Somashekhari. She and her children are not only trained in Indian Classical Dance but they also had the experience to learn the excellent way of devotional singing, the art of the Indian culture, which is presented by Bhajans and Kirtans. In a very joyous way the Bhajan Mandali started with a song to honour the great Lord Ganesha, followed by songs dedicated to Omkarananda-Kamakshi-Devi. The spirit, when these pure hearted souls were singing, touched the devotees so much, that they automatically also felt to join in the rhythm of their songs. So, the whole temple was filled with great joy and it was no doubt a memorable and happy moment, which the people will not forget.
Right:


Shri Swami Vishveshwaranandaji
thanked the students of
Omkarananda Bhajan Mandali
The Omkarananda Bhajan Mandali was enriched with the help of the Omkarananda Ashram Pandits, who joined with different musical instruments, which gave great colour to the beauty of their songs.
Swami Vishveshwarananda thanked all of them and rewards were given to the children for their beautiful performance.